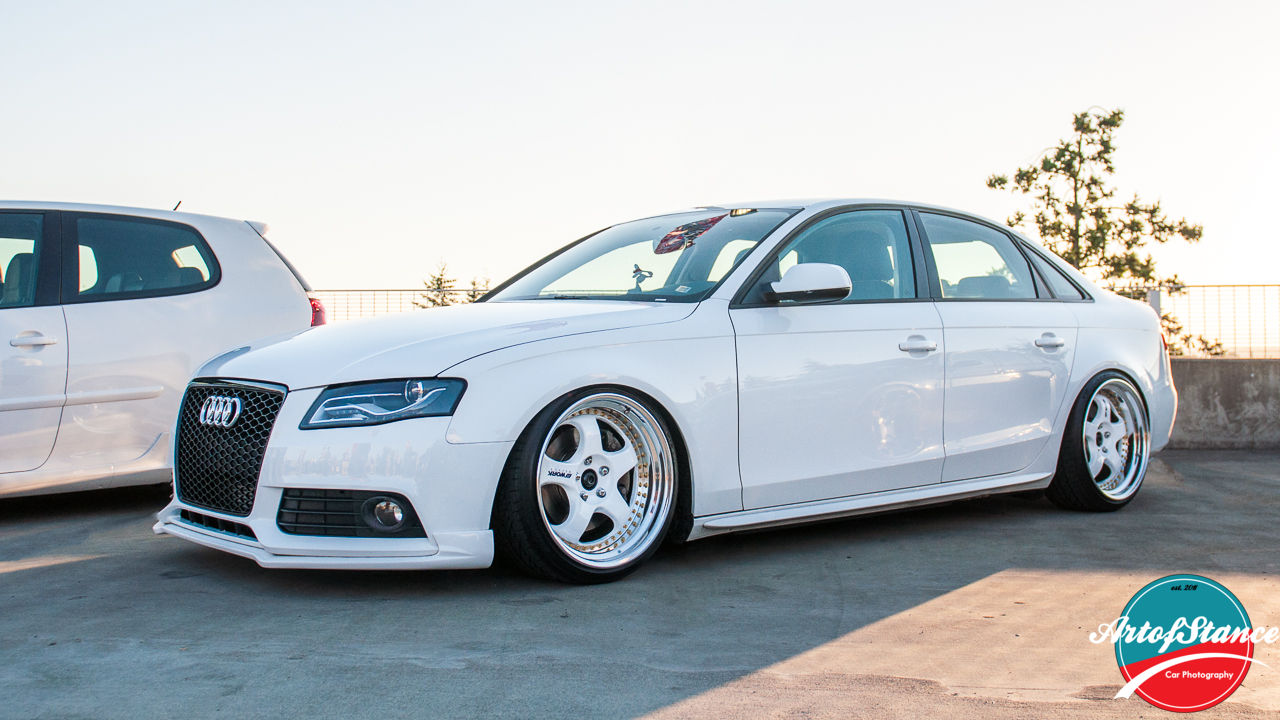 White Nights – 2010 Audi A4
Feature written by guest writer AJ Pau. Additional photography by guest photographer Steve Kwok and Kimberly Chan.
Three years can be a short time for some, but for Cris Kuan, three years changed everything for him. In April of 2010, the only thing Cris wanted was a car to go from "A" to "B." The only other stipulations were that it had to be white, European and not a BMW, as he saw too many of those on the streets. With all that in mind, a white 2010 Audi A4 with the Sport Package became his. Differentiating it from base models were upgraded sport seats, a three-spoke sport steering wheel, sport suspension and 18" alloys. Shortly after this, Cris added a lot more that really, really differentiates his car from normal A4s.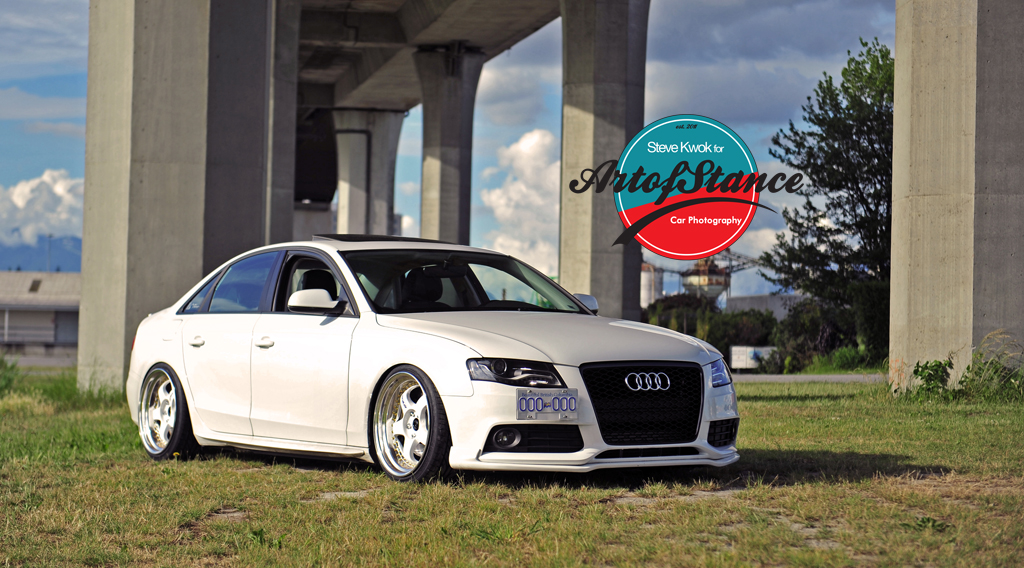 Every single modification on the car was done by Cris' own hard work. A firm believer in drop before wheels, suspension is his favourite mod on the car. Sitting on ST coilovers gives him a new dial-in stance, which coupled with the 19"x10" Work Meister wheels, completely transformed the ride.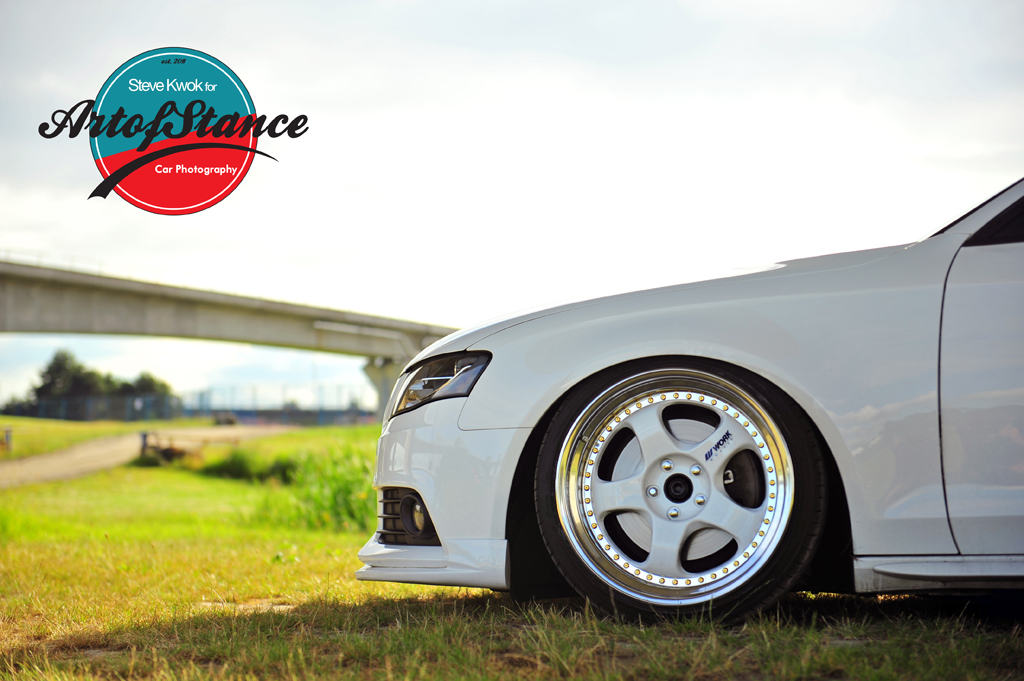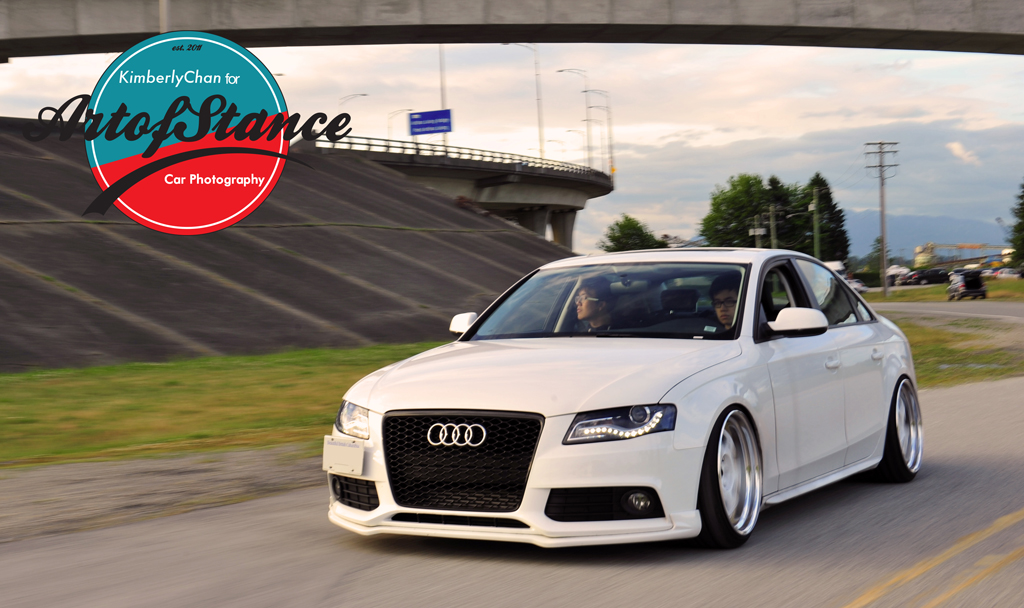 One of Cris' best experiences in the scene was at StanceWars' Golden Gardens meet in March of 2013. While he did not bring his car over, the astounding quality of the cars south of the 49th Parallel encouraged him to run his current set up. More low, more stretch, more poke. A white Acura DC-5 Integra on white Work VS-XX wheels is the inspiration for Cris' own Work wheels also, as both have polished lips, white faces and gold rivets.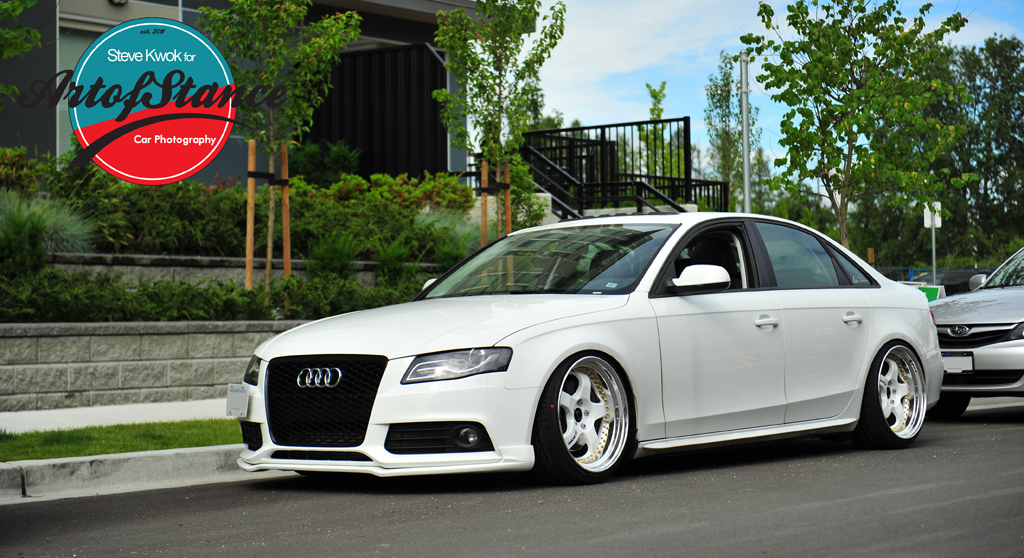 Suspension was not the only area that saw work, as a custom Jun-BL quad-outlet cat-back exhaust with muffler delete was installed. On the outside, an RS-style honeycomb front grille, JMS front lip, and J-Code headlights spruced up the front. Audi S-line side blades and a Rieger-style trunk lid spoiler rounded up the rest of the exterior mods. On the inside, Cris keeps an eye on the boost with a Podi gauge, while Osir D-trim, piano-black MMI/dash trim and carbon fibre wrap give the interior a look that means business.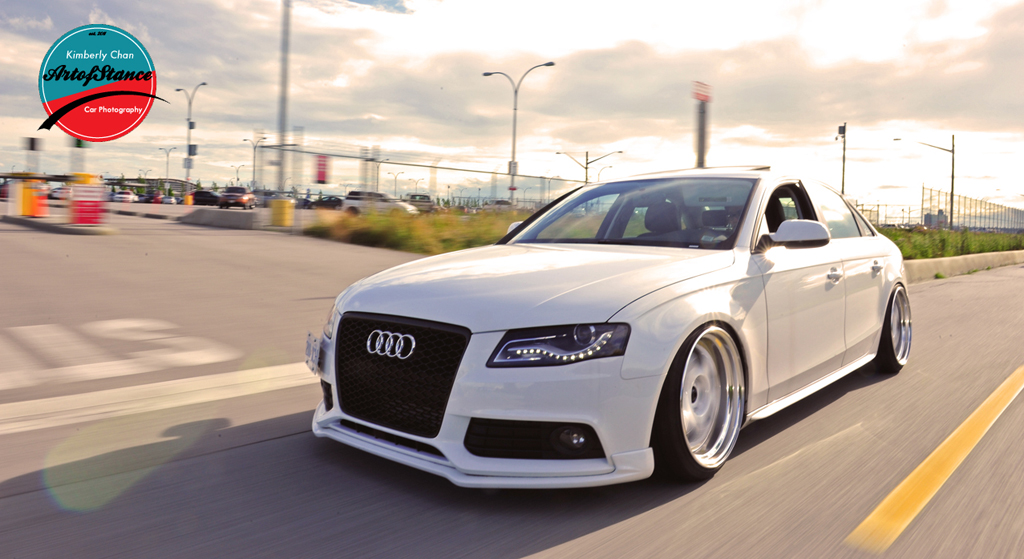 There are quite a future plans for the A4, but first on Cris' list is air suspension by means of Airlift Performance Bags with Accuair E-Level management. Audi S-line front and rear conversions are planned as well, topped off with a Tommy Kaira front lip and a DEVAL rear diffuser. Interior trim will be worked on, and after all this, Cris may finally mess with the engine again, despite previous bad experiences with a tuned ECU.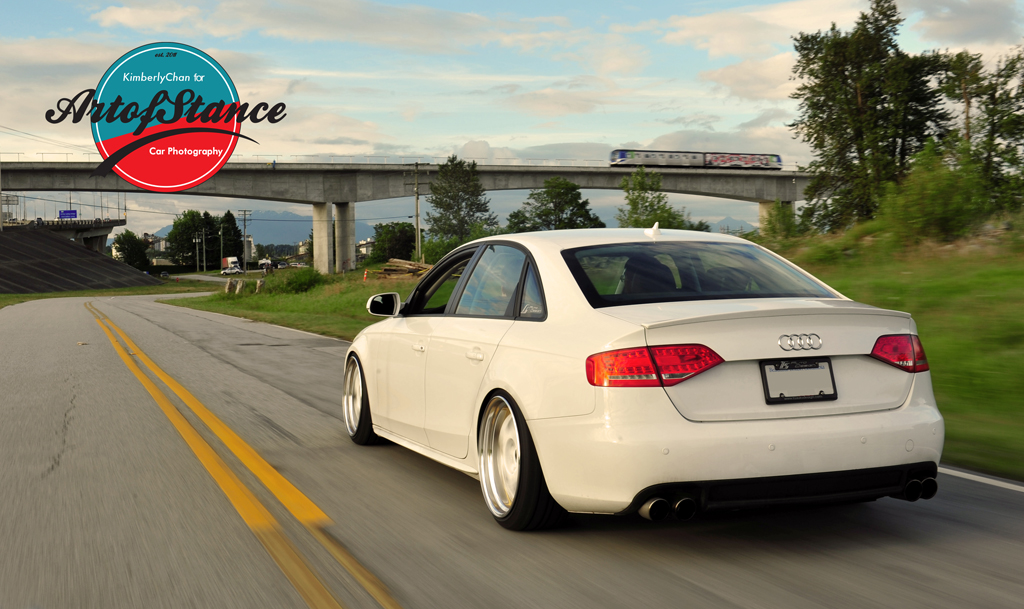 This car got Cris into the car scene, but it has also allowed him to meet many new friends. In fact, he can truly say that these new friendships are his favourite part of the car. Cris thanks the Thursday Night crew, the guys at StanceWars, Audizine, Steve and Brian, and artofstance; those who have helped to make this car what it is today. Looking back, Cris has come a long way, and looking forward, there will be much more to come.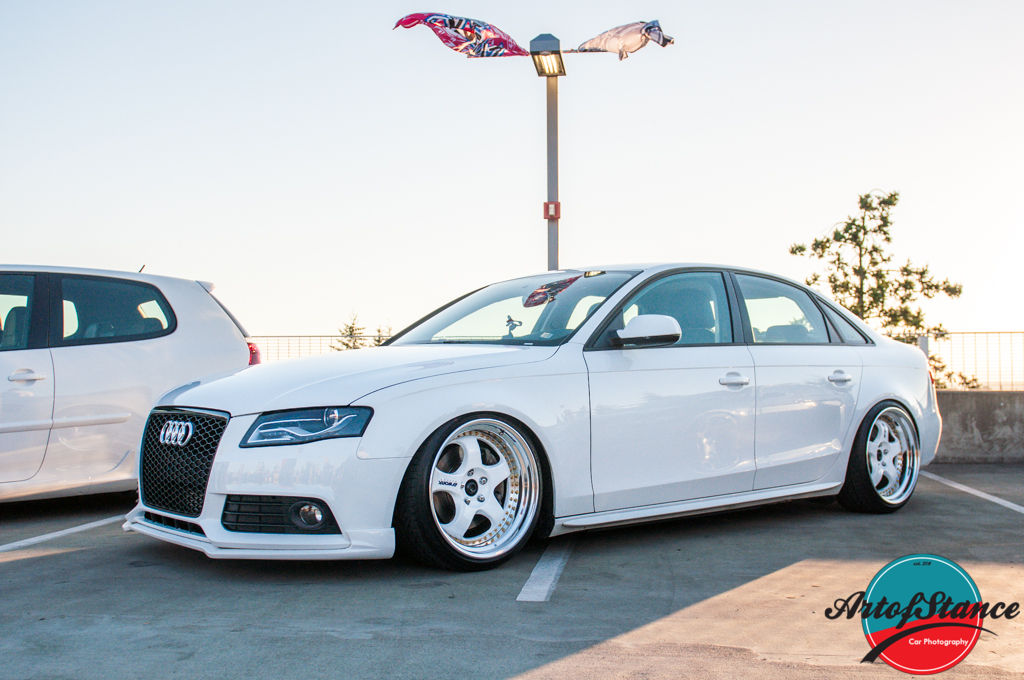 Modifications
Engine
Custom Jun-BL quad-outlet cat-back exhaust with muffler delete
Suspension
ST coilovers
Wheels/Tires
19"x10" ET29 Work Meister with white faces, polished lips, gold rivets
Hankook V12 Evo Ventus 235/35R19
Exterior
Audi RS-style honeycomb front grille
JMS front lip
J-Code headlights
Audi S-line side blades
Rieger-style trunk lid spoiler
Interior
Podi boost gauge
Osir D-trim
Piano-black MMI/dash trim
Carbon-fibre-wrapped interior trim
Look for an upcoming feature on Brian's BMW soon!