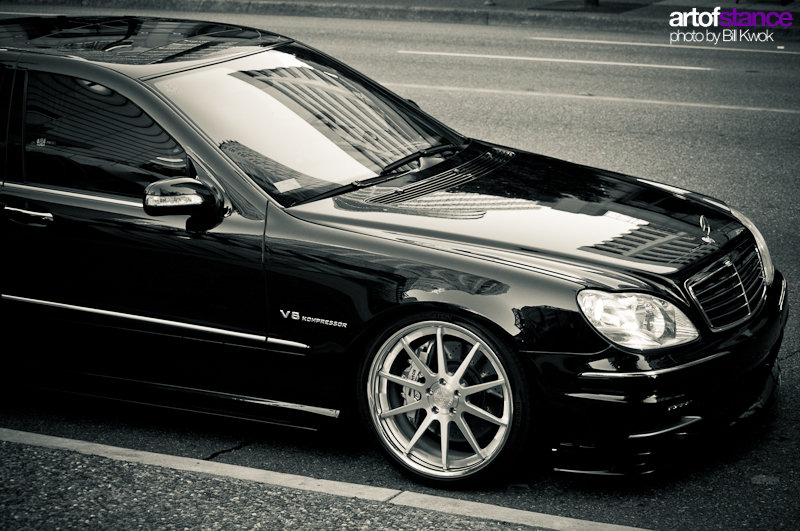 The 600hp Mercedes S55 Sleeper
A few months before we started Art of Stance, Richard and I were a little familiar with Quinton's car. We've seen it at The Speed Syndicate's anniversary BBQ and I've read a little about it on the build. We got the chance to get to know it a bit more when we went down to Formula D and met Quinton for the first time. Quintons supercharged 2005 Mercedes S55 AMG is a bit of a sleeper. Most people wouldn't know that there is a beast under the hood that puts out 600hp at the wheels. That's right..you heard me. 600hp in a car with very comfortable leather seats with massagers in the front. The Art of Stance crew can vouch for the seats since we all had to have a sit in it! We also played with the automatic closing doors and checked out the hydraulics that lower and raise the car..all of which is stock.
We started the morning at 5:30am at Tim Hortons where we talked about some locations we wanted to do for the morning shoot. Our shoot took us to parts of downtown, Gastown and even over the Lions Gate Bridge. Shooting in the morning lets us utilize the beautiful morning light and lets take advantage of the light traffic especially in downtown.
The Mercedes S-Class in general had always been one of Quinton's favorite cars of all time. When Mercedes released the S55 AMG, well lets just say that was the icing on the cake. The AMG body kit with the 8 piston AMG brake calipers caught Quinton's eyes immediately. He knew he had to get it. The car has been with his family for a good 6 years now and the 5.4L supercharged V8 is definately his favorite part of the car. The torque pulling this heavy car makes it haul like a freight train. Something that Quinton finds quite exhilarating.
Alex and Curtis at The Speed Syndicate fabricated the long tubes, custom exhaust, top mounted intercoolers, and anything else that was custom made. For the time being, Quinton has no more plans to modify the car. As it stands, his S55 has the potential to be in the low 11's and maybe one day 10s in the 1/4 mile. Quinton's next project right now is to build a drift car. We'll be sure to feature it when its completed!
Performance Modifications
– Snow performance water/meth kit,
– Custom Top Mount Intercoolers
– Custom Fuel Feed and Converted to Return System
– FiveO Injectors (550cc)
– Custom upgraded Heat Exchanger
– CM30 Johnson IC Pump
– Custom 82mm Porsche GT3 throttle body
– 190mm crankshaft pulley
– Custom long tube headers
– Custom full section exhaust
– Upper and lower phenolic spacers
– OE tuning ECU flash
Exterior Modifications
– WALD Black Bison Sport Front bumper and side skirts with AMG rear bumper
– wheels: 360Forged Concave 10 (20×9.5 front & 20×10.5 rears)
– tires: Verdestein Ultrac Sessentas (255/30/20 fronts & 295/25/20 rears)
"I wanted to say that it was great driving the car around town because it's astonishing how many people under-estimates this car's potential. It's definitely great when I pull past someone trying to cut me off and seeing the shock on their eyes knowing a family sedan just zoomed by. But not just any family sedan… It was a S-class…"
Interior Modifications
– black alcantara head liners and pillars
– Junction Produce curtains and pillows 
The last words from the man himself, Quinton:
"My biggest shout out will have to be the boys at The Speed Syndicate. Alex and Curtis are both exceptional with their service and work. Without their help my car would be no where near where it is now!"