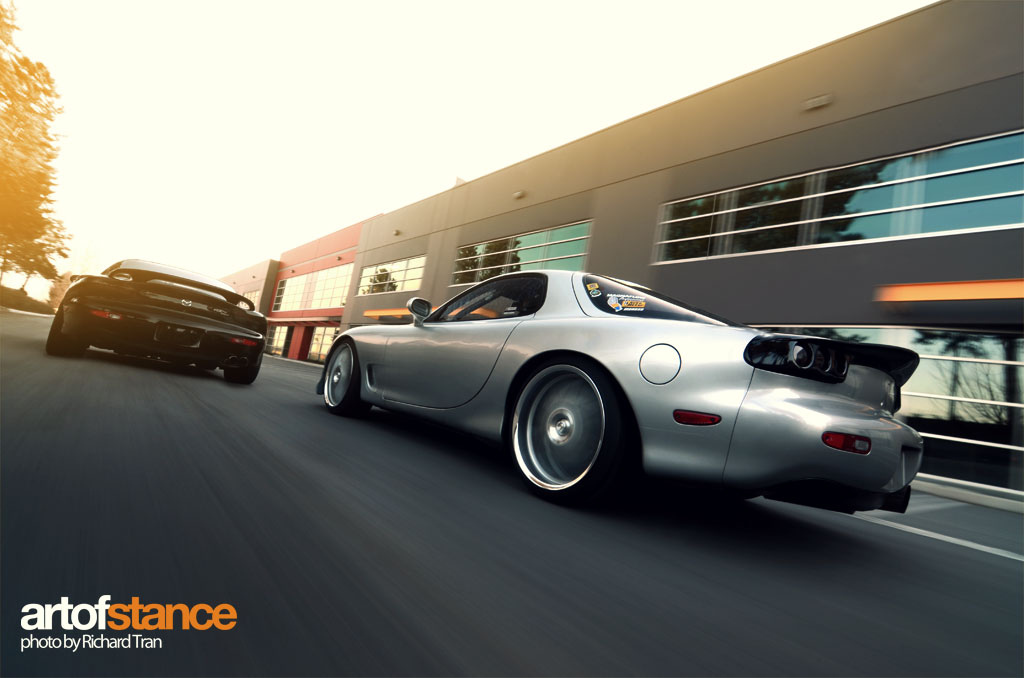 Rotary Powered
We did a photosession with two Mazda RX-7 FDs awhile back. FDs have always been one of my favorite cars and we were happy to get a chance to shoot two of them together! Collin and Vinson took two different approaches to the route they took for their FDs. Collin's silver RX-7 was a road race only car built by Marko and his team at Forcefed Performance in Abbotsford. Collin is converting it back to be more of a street/track car. He plans to take his FD to Mission raceway this year but other than that, he doesn't drive it too often as it can cost a $100/day in fuel to drive! Vinson's black FD modifications gear more towards the aesthetics with him removing a body kit and returning the car back to a clean and stock body style. The '99 spec front bumper, lip and tail lights help to achieve this look.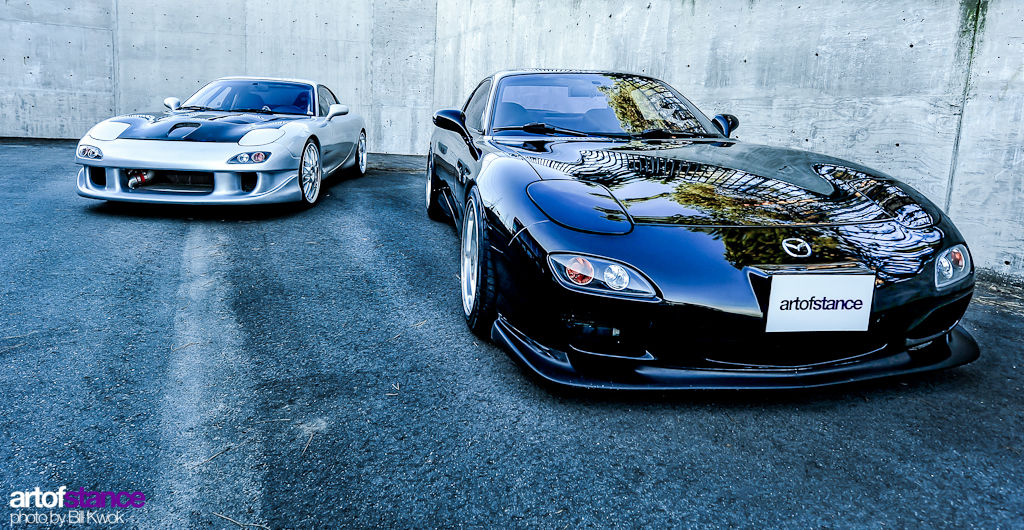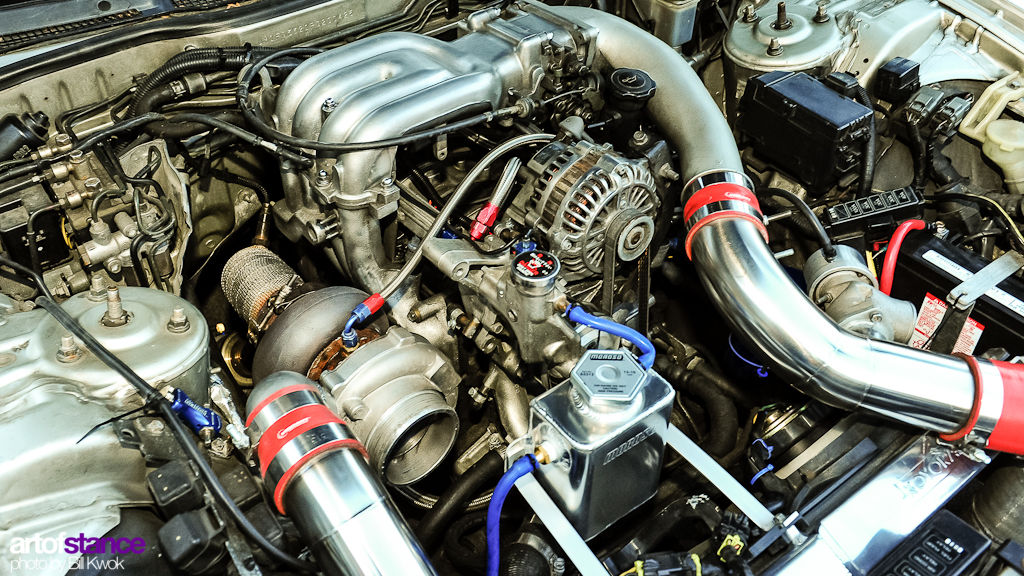 Collin: "I chose a FD because I've owned two before and I have had a rotary engine addiction for the past 7 years! I've owned too many to count. The last FD I owned was originally built by RE-Amemiya in Japan, then Chris Scremin swapped a 1JZ -VVTi motor into it. It was an awesome car having owned it for 4 years. I sold it because I was going to college and broke. Missed it so bad I had to buy another and ended up with this silver one.
Future plans : Change the turbo setup to a new borg n warner + direct port methanol injection and change fuel system so i can make 600HP on pump gas! Also might sell the FD and do a 20B 3 rotor swap into the FC. Or vise versa for the FD. Going to go with the flow for now!"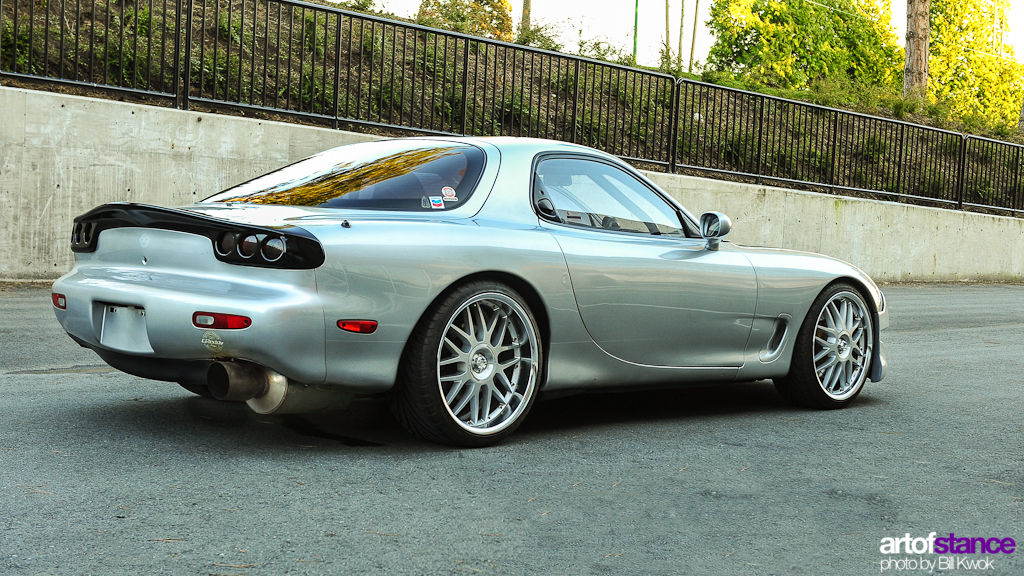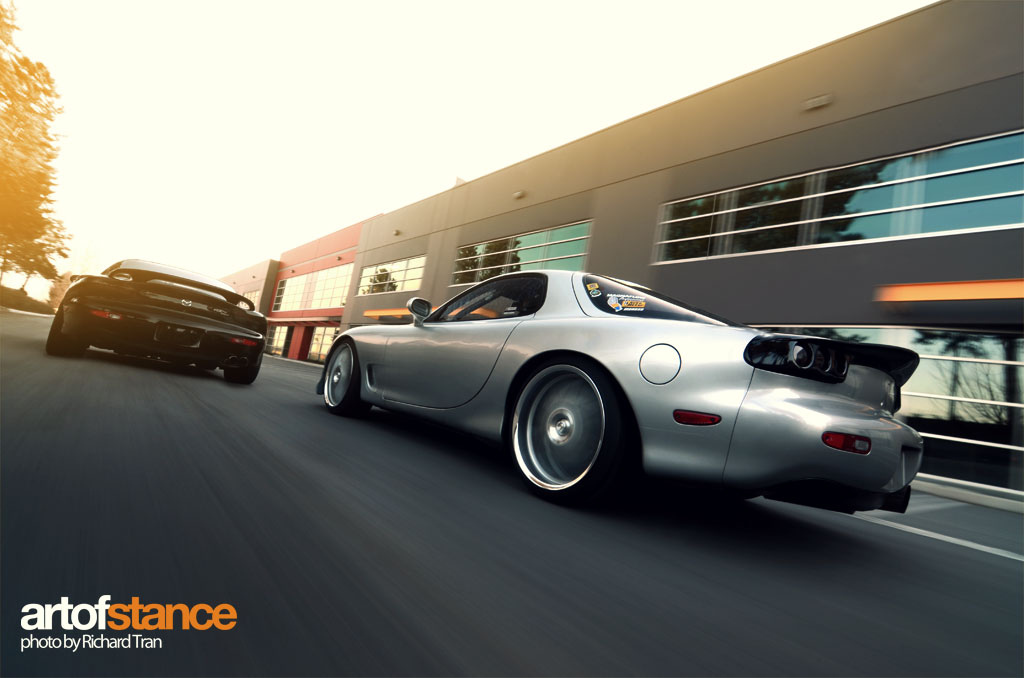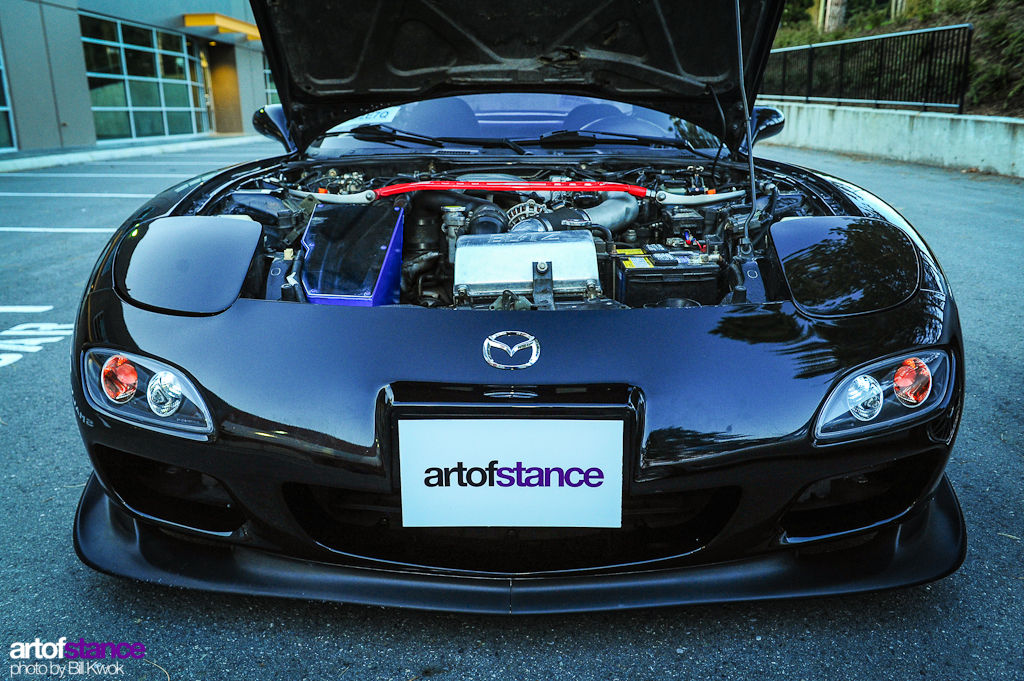 Vinson: "I have been driving FC Rx7s since I first got my license. I had been debating with myself about getting a more practical (but still fun) car after putting my final FC, a TII, on the market. Roughly a year from now, I (un)fortunately decided to take the plunge and invest in an FD Rx7. Having driven nothing but Rx7s, I wasn't about to break the chain now. From the very beginning I've been very intrigued by the Rx7 due to the uniqueness of the Rotary Engine. Who would have known that these little 1.3 liter engines with spinning triangles on a stick would be keeping up with engines with at least twice it's displacement? As soon as I hopped into my first Rx7 and took it for a good brisk drive, I knew this was it. I felt a connection with these cars, and felt right at home in the driver's seat. In terms of aesthetics, no other car has really appealed to me in the way that the Rx7 does, especially the very much-refined elegance of the FD Rx7.
The only things I have done to the car are mostly aesthetic. Soon after buying the car, I removed a body kit and returned the car back to stock-body styling with a '99 spec. front bumper and lip and tail lights. I also replaced a massive Greddy muffler with a 5″ outlet to a Racing Beat muffler. Finally, I applied the finishing touches by throwing on a set of 2-piece Work Meister S1 wheels that I actually got for a steal, replacing a set of Sportmax wheels. Aside from possibly deciding on taking the stock '93 spec spoiler off to go spoiler less, I don't see me doing much else to this car aside from maintenance (go figure, right?). The car is great the way it is although it is very likely that I will slap on a single turbo setup in the near future, but plans change and only time will tell what will really go down."
[one_half]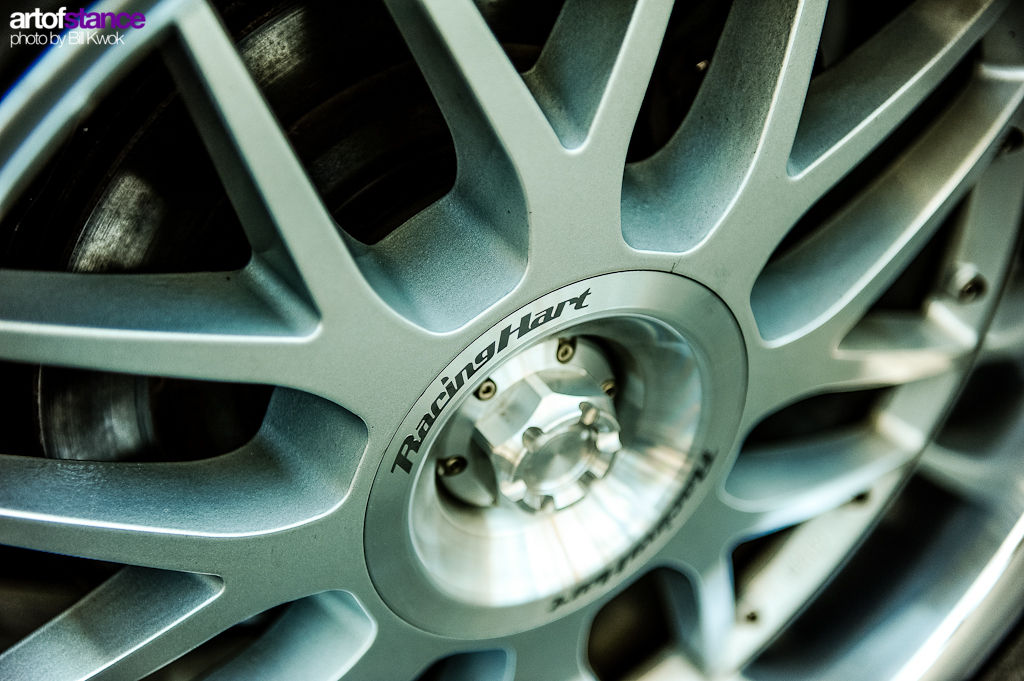 [/one_half]
[one_half_last]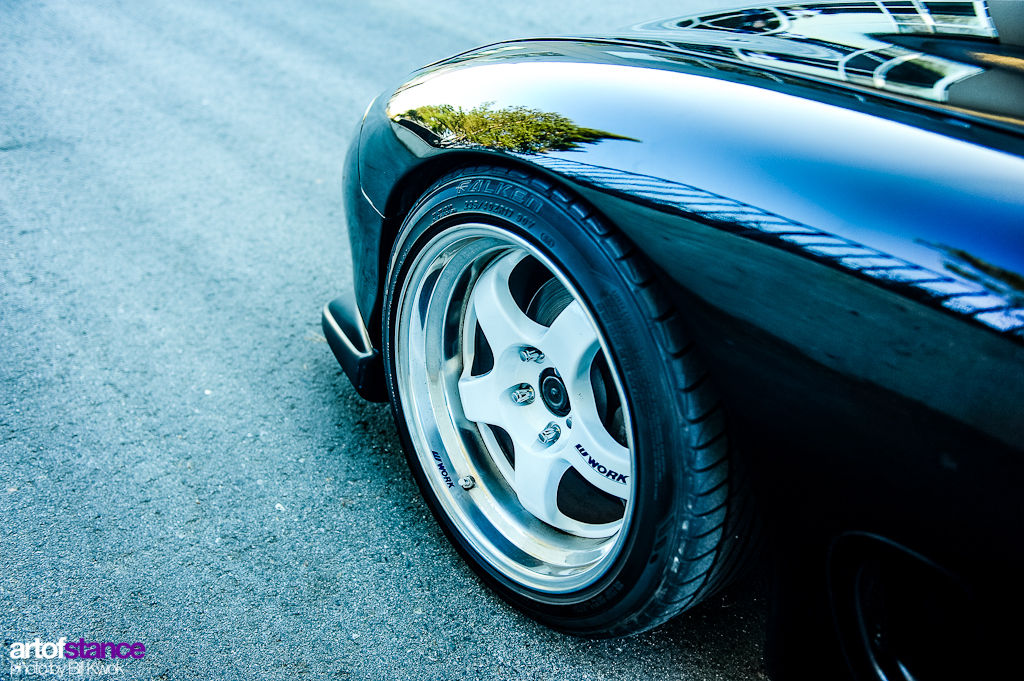 [/one_half_last]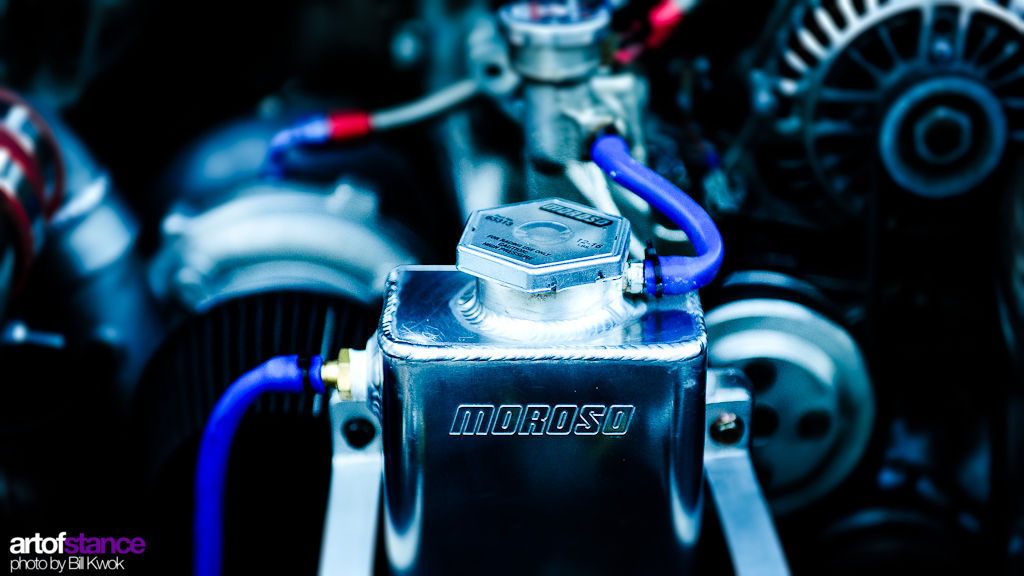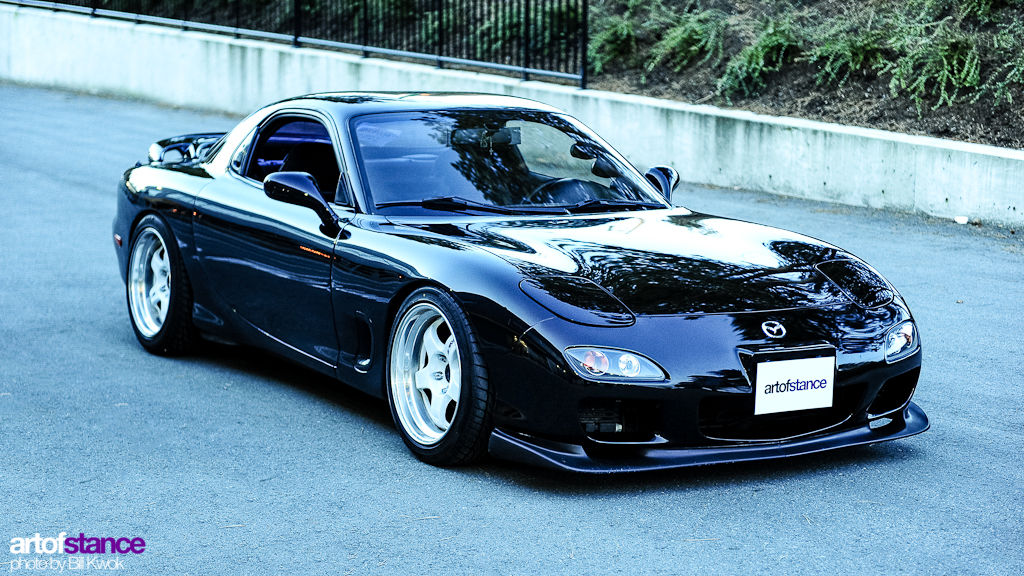 [one_half]
Collin's Silver FD
Exterior:  
99 Spec RE-Amemiya front bumper
99 Spec RE-Amemiya Tail light lip cover
Wheels / Suspension / Brakes:
19×10 Racing Hart C4's
Toyo Proxe Tires
HKS Coilovers
GREX Alcon Big brake / Rotor kit
Interior:
Full Roll cage
Stripped interior
Microtech DASH unit Display
AEM Wideband / Autometer water temp
Sparco Seat / 5pt Harness
Sparco F1 Steering wheel
Mazdatrix Short shifter
Engine: 
13B-REW Rotary engine
Full Race Bridgeport, Dowelled, studded, built and tuned by Forcefed
Forcefed T67 turbo
Forcefed Custom Flat mounted intercooler / Piping
Aeromotive adjustable FPR
GReddy BOV
GReddy Catback
Custom downpipe / 55mm external wastegate plumbed back into the downpipe
x2 1200cc Primary and x2 1680cc Secondary injectors
Walbro in-tank pump
SS Fuel / Oil lines with A/N Fittings
Microtech LT10s standalone fuel management
Custom clutch / flywheel
Custom Moroso air seperator tank for cooling system
Koyo Rad
Twin oil coolers
[/one_half]
[one_half_last]
[/one_half_last]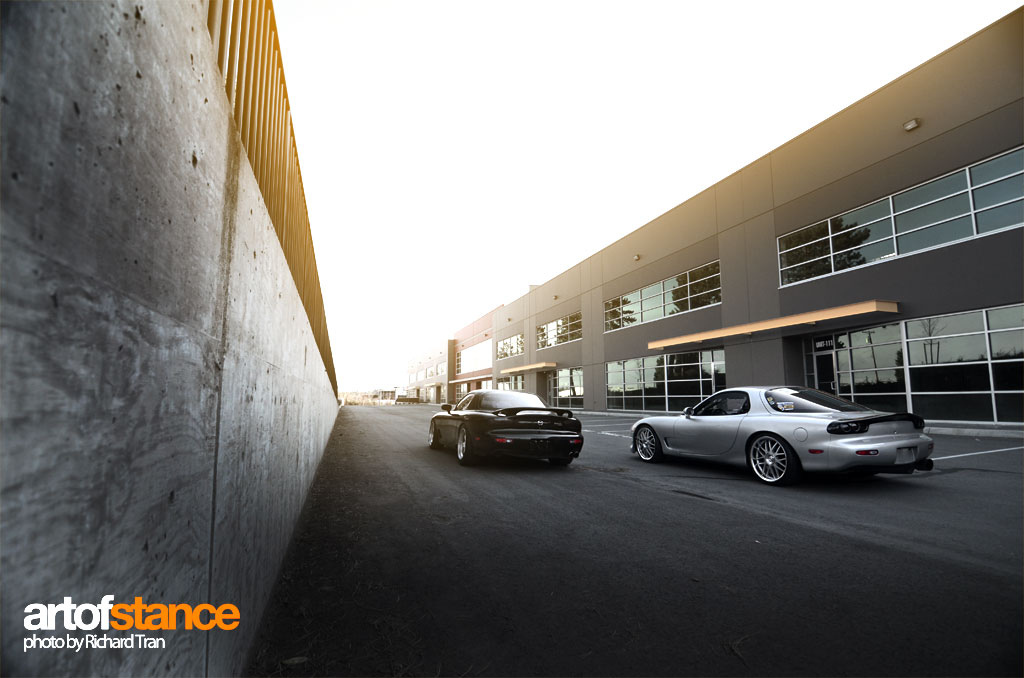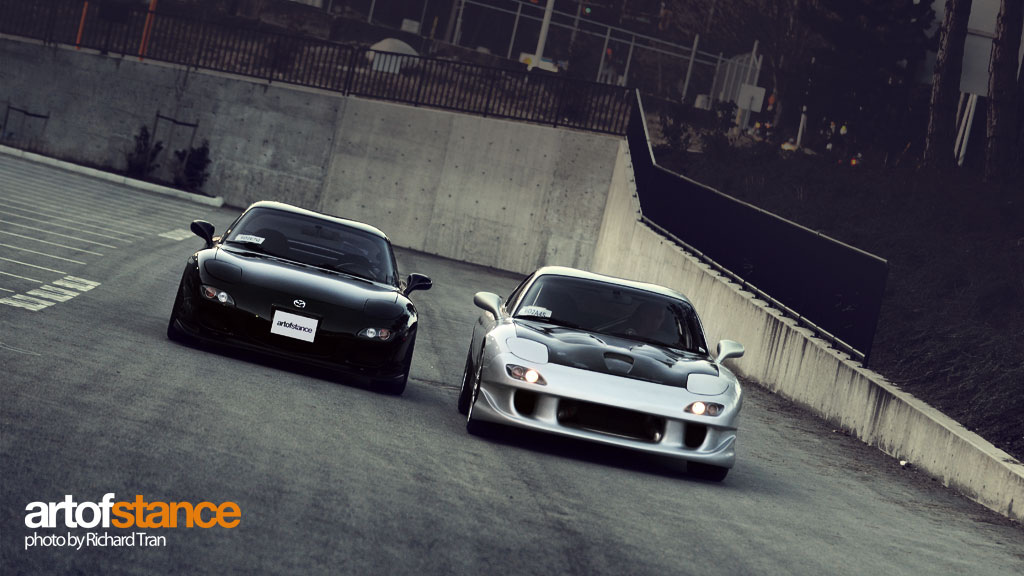 [one_half]
Vinson's Black FD
Modifications:
Rebuilt engine with mild streetport
Microtech LT10s
Greddy Pully Kit
SR Motorsports cold air intake
Blitz SMIC
Fluidyne Radiator
'99 spec. twin turbos run parallel
3" Greddy downpipe and resonated midpipe and Racing Beat muffler
Momo "Tuner" steering wheel
KSport Kontrol Pro coilovers
RP rear trailing arms
OEM '99 spec. front bumper and lip
DIY '99 spec. converted tail lights
Work Meister S1 Rims (17×9.5 +20, 17×10 +25)
Falken FK452 235/40r17, Falken ZE502 245/45r17
[/one_half]
[one_half_last]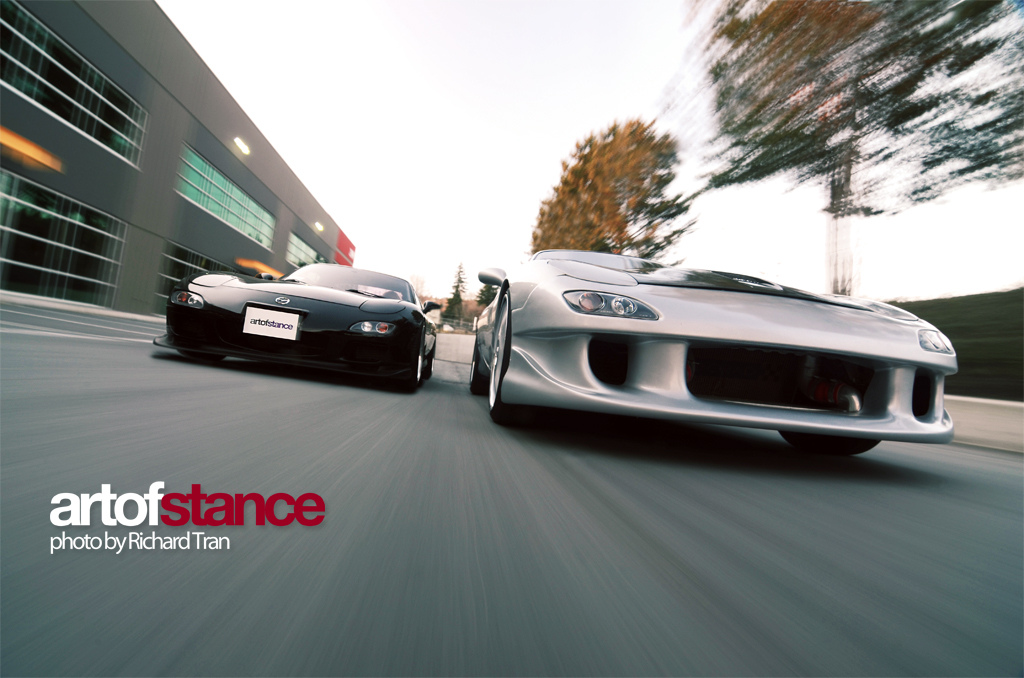 [/one_half_last]
[one_half]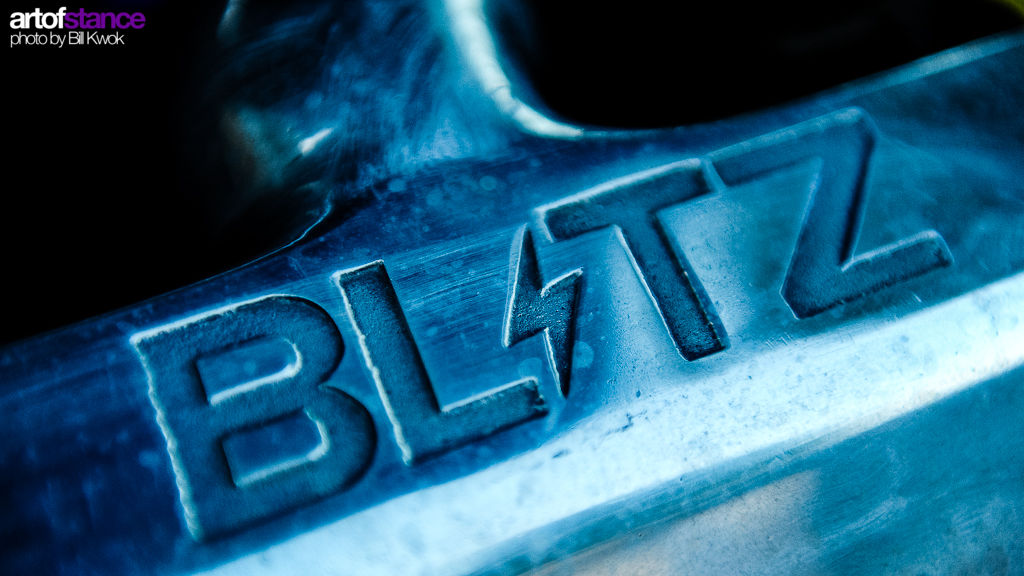 [/one_half]
[one_half_last]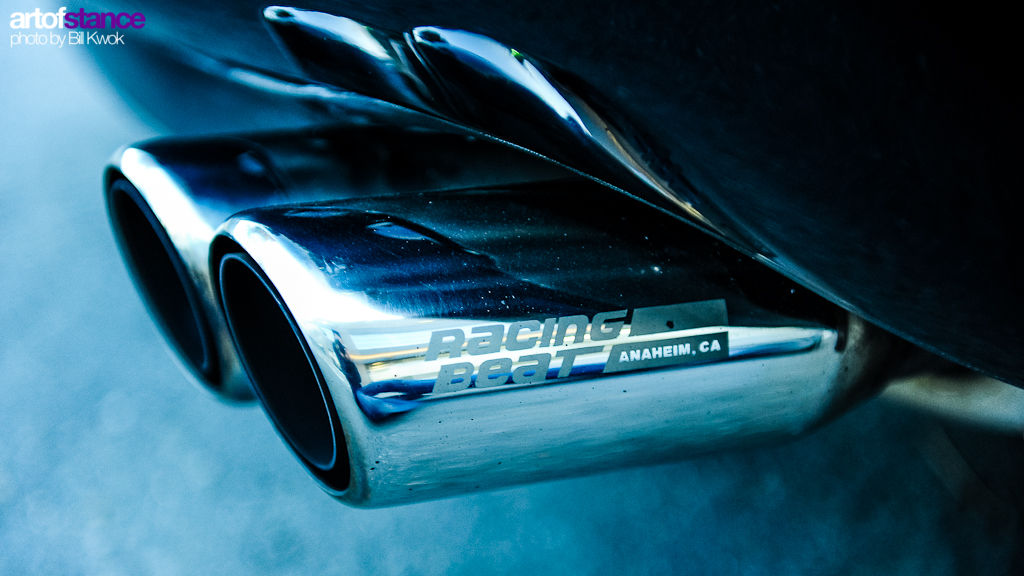 [/one_half_last]