Monster 3 – Turbocharged Mazda 3
Today we feature Johns heavily modified turbocharged 2006 Mazda 3. Monster J is what he's commonly known as on the Mazda forums, his car started off as a daily driver that could haul his biking gear. John wasn't even into modding when he bought the car but of course that would all change. He joined BCMazda3.com and signed up on the forum. He started to look at other owners rides and saw how much other owners were modifying their cars. John got more and more interested in car modification and another gearhead was born. Back in 2006, the Mazdaspeed 3 wasn't available yet and John started off with simple modifications. Turbo wasn't even in the horizon at this point…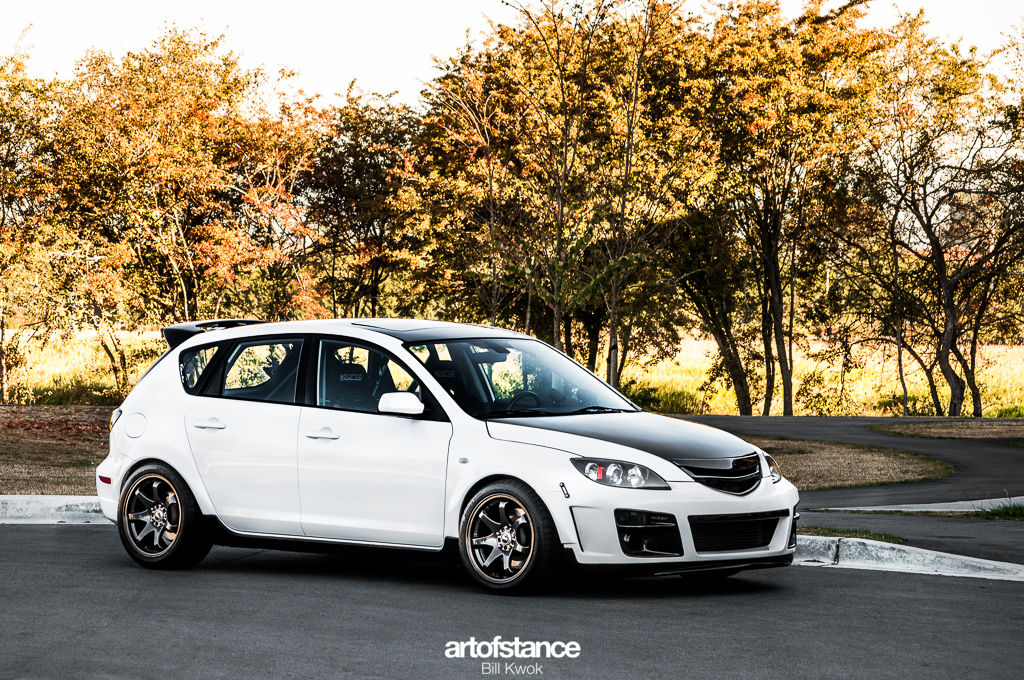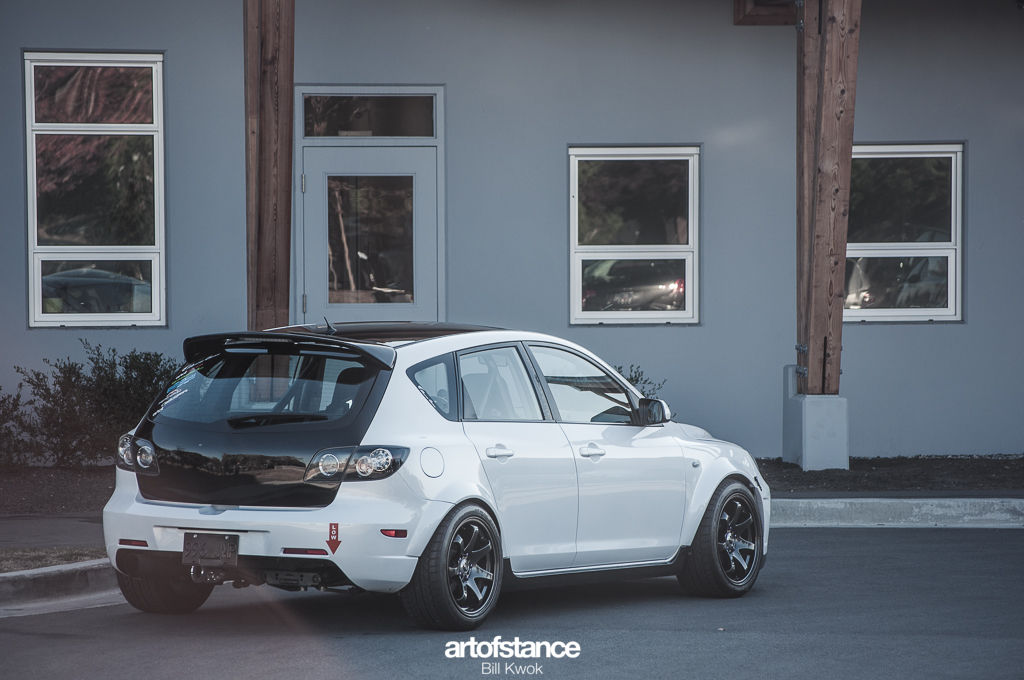 Something simple like cat-back exhaust, intake and short shifter was the first to appear. I was also lucky enough to have my father in-law (who is a licensed mechanic) to teach me how to DYI everything from the get-go. Shortly after rims and a suspension drop was on the way. However the real turning point to make me want to go turbo was when I test drove on of our BCMazda3 member's Mazdaspeed 3. I was so impressed with how 260hp feels like I said to myself "I gotta get that feeling into this car!" So a turbo kit was ordered!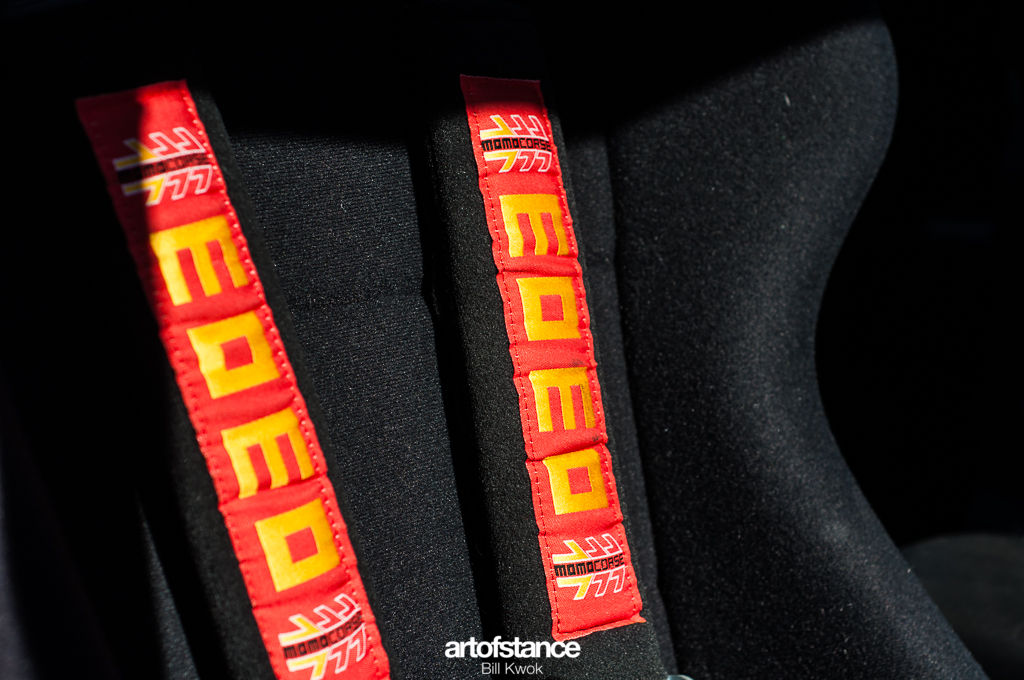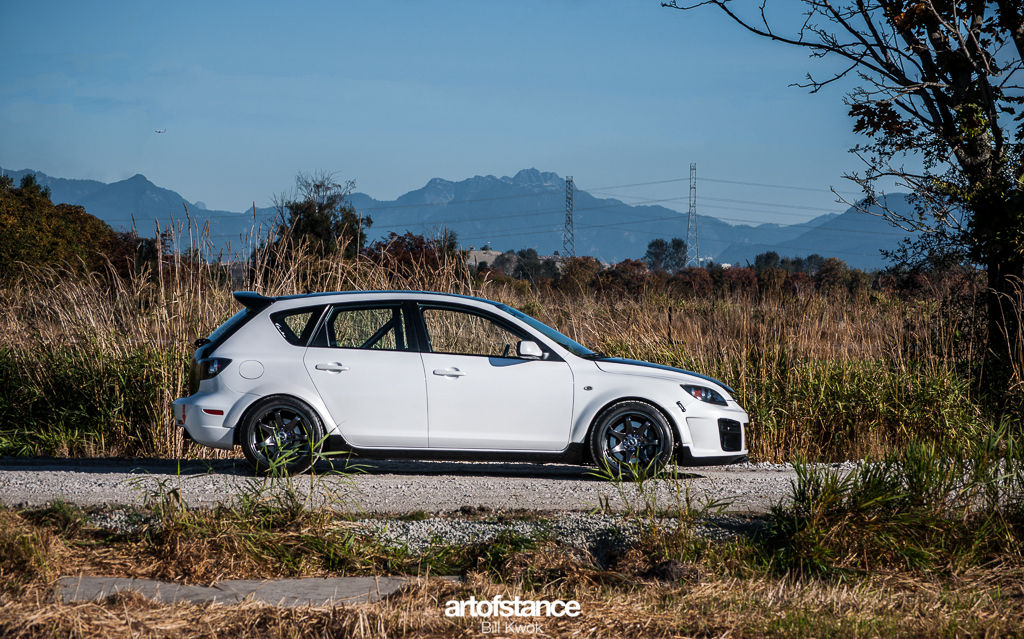 So why didn't John just get a Mazdaspeed 3 instead? He thought about trading the car in for a Speed 3 but getting a custom turbocharged regular 3 felt more special then getting a stock pre-turboed car to John. Cobb tuning wasn't available back then which made it extremely hard to tune the Speed 3 due to its direct injection engine at the time.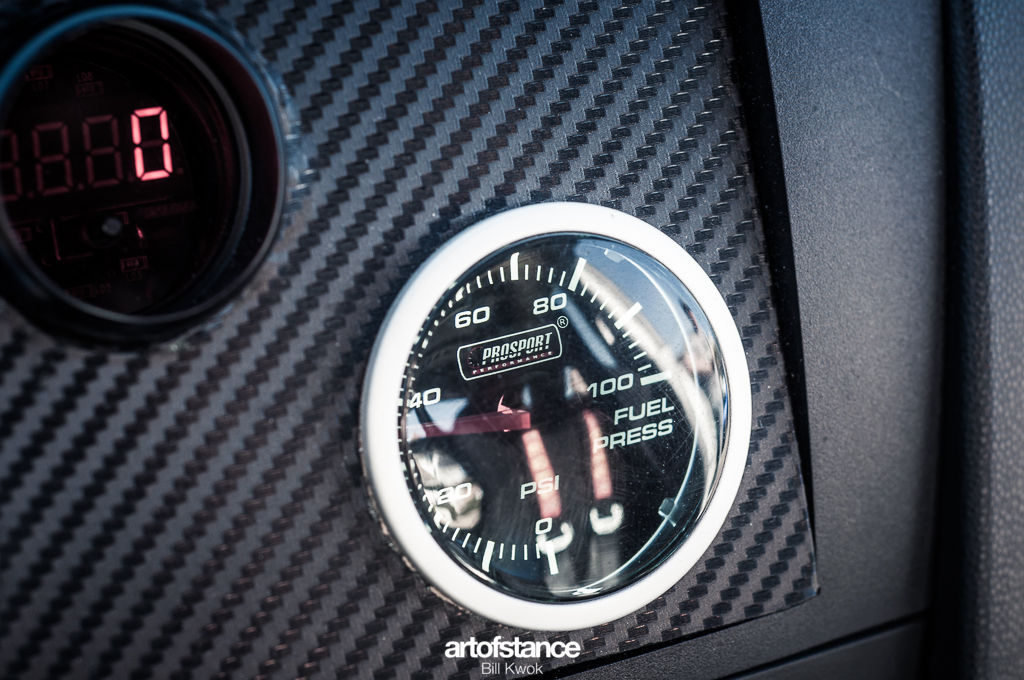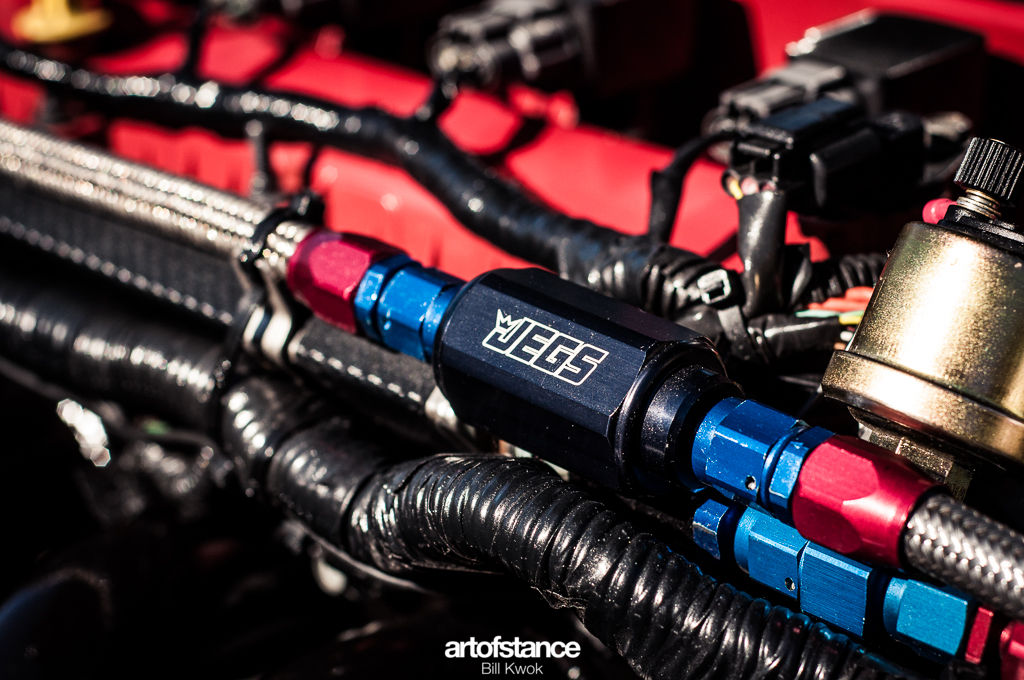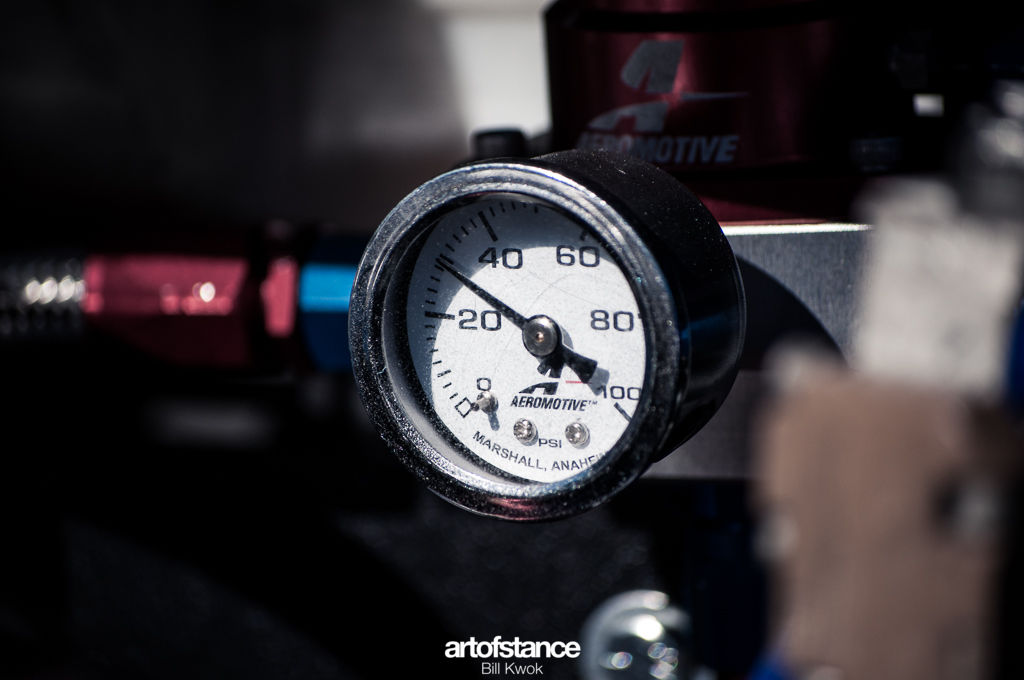 Turbocharging the car didn't come without its own issues and problems
The biggest problem, again, lies in tuning. Everything on the hardware side was fairly straight forward. However getting the car tuned properly and make it a daily driver was challenging. What I found out is that getting the car tuned on dyno for power output is entirely different than street tuning the car to make it drive smoothly and idle properly everyday, in every type of weather.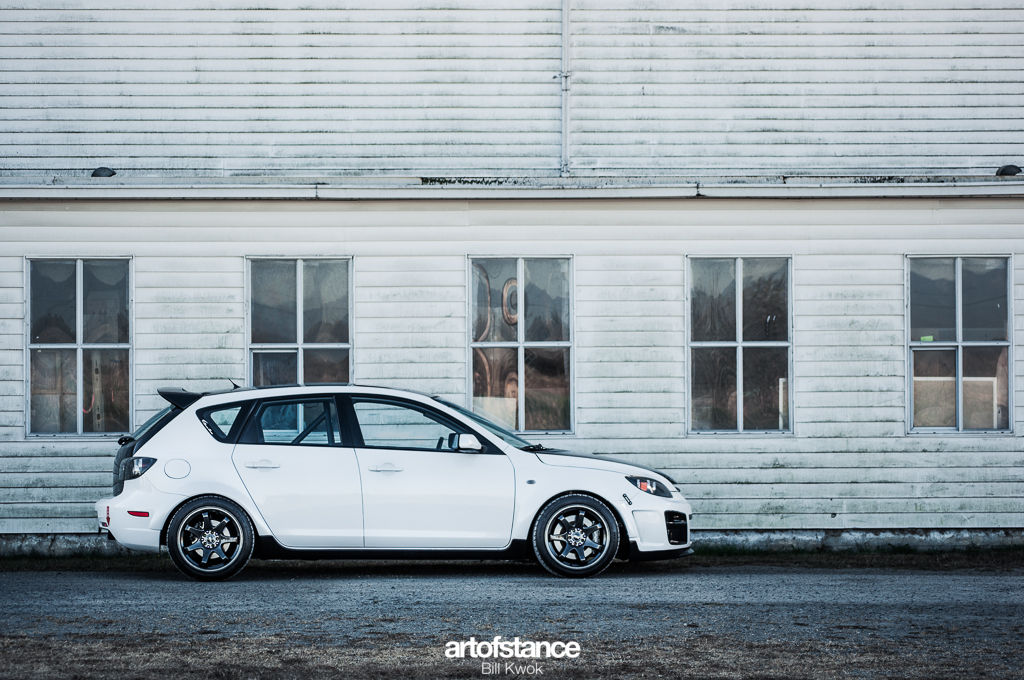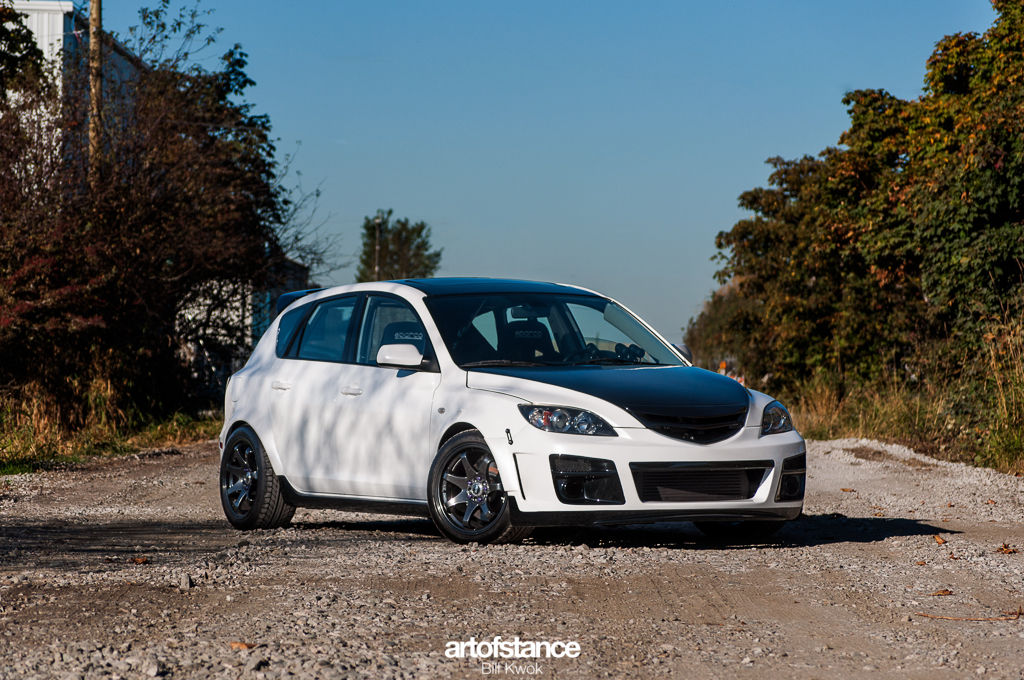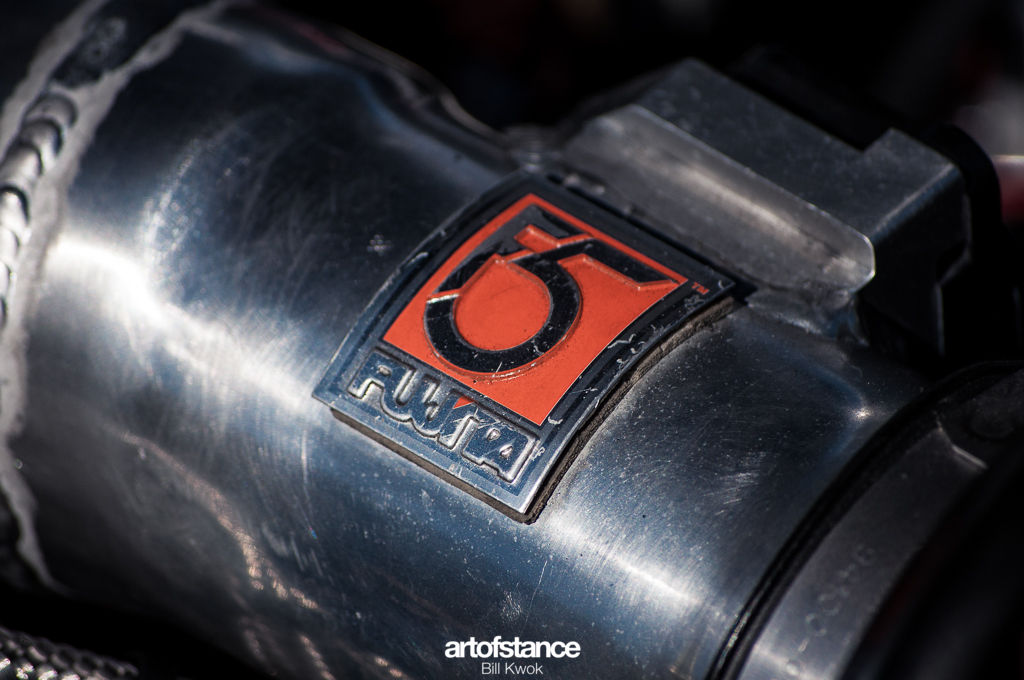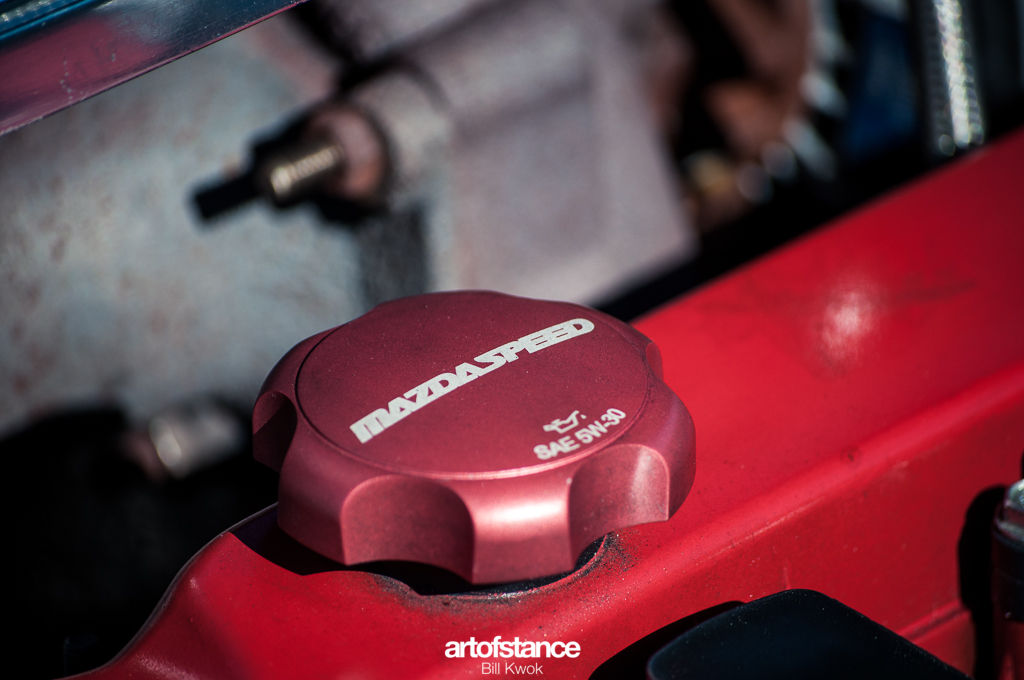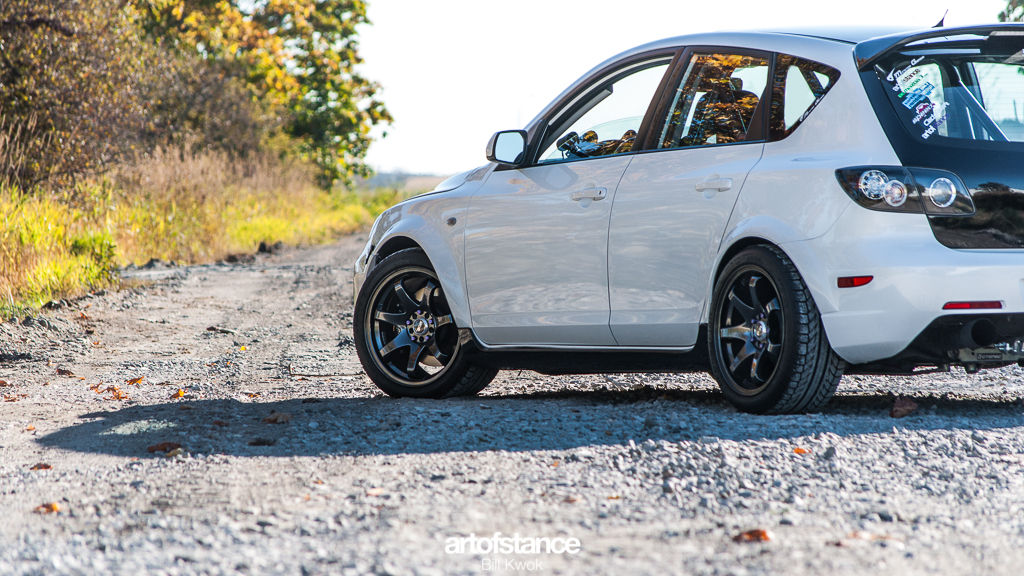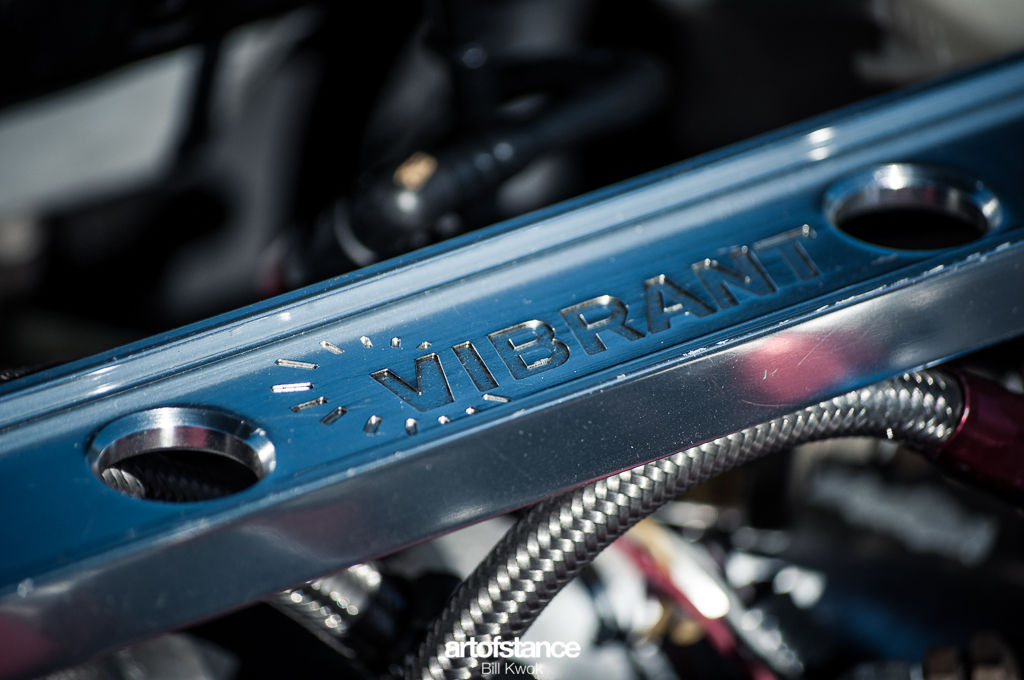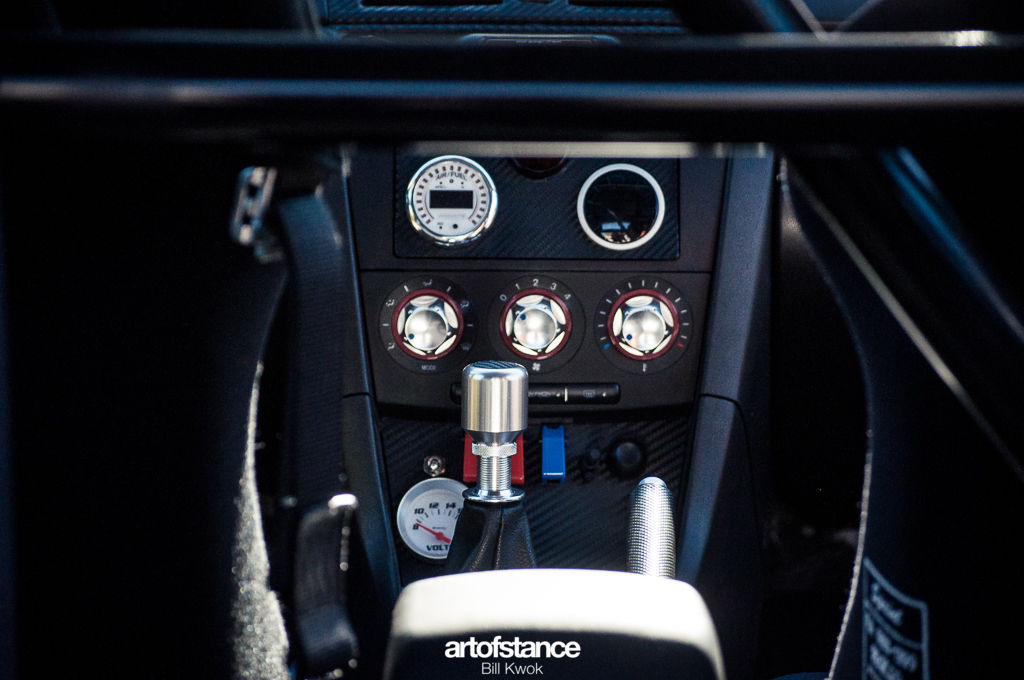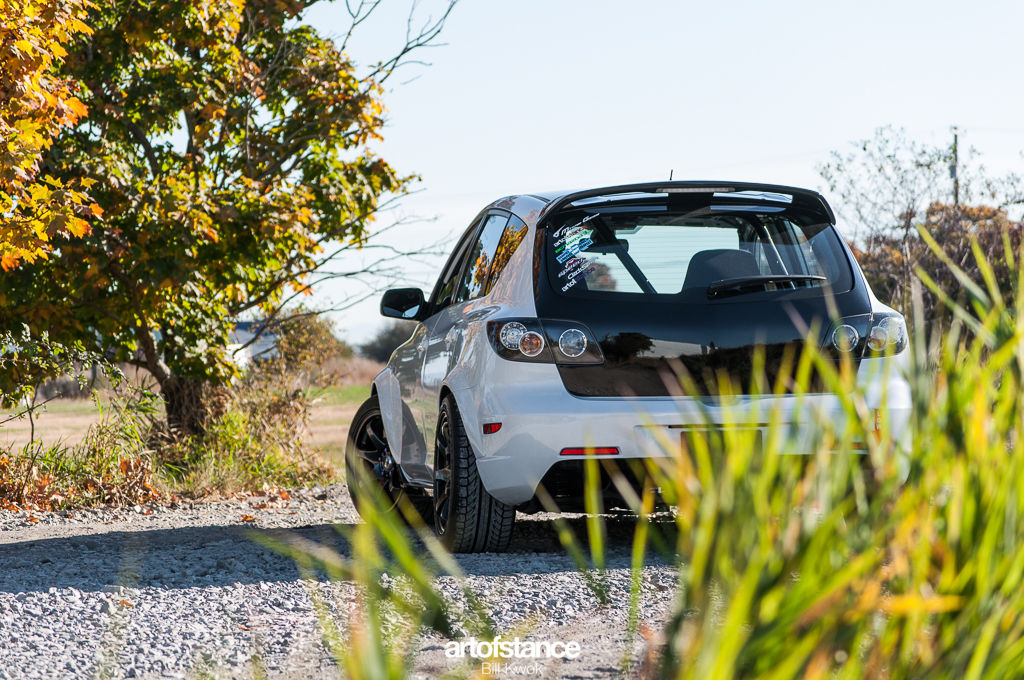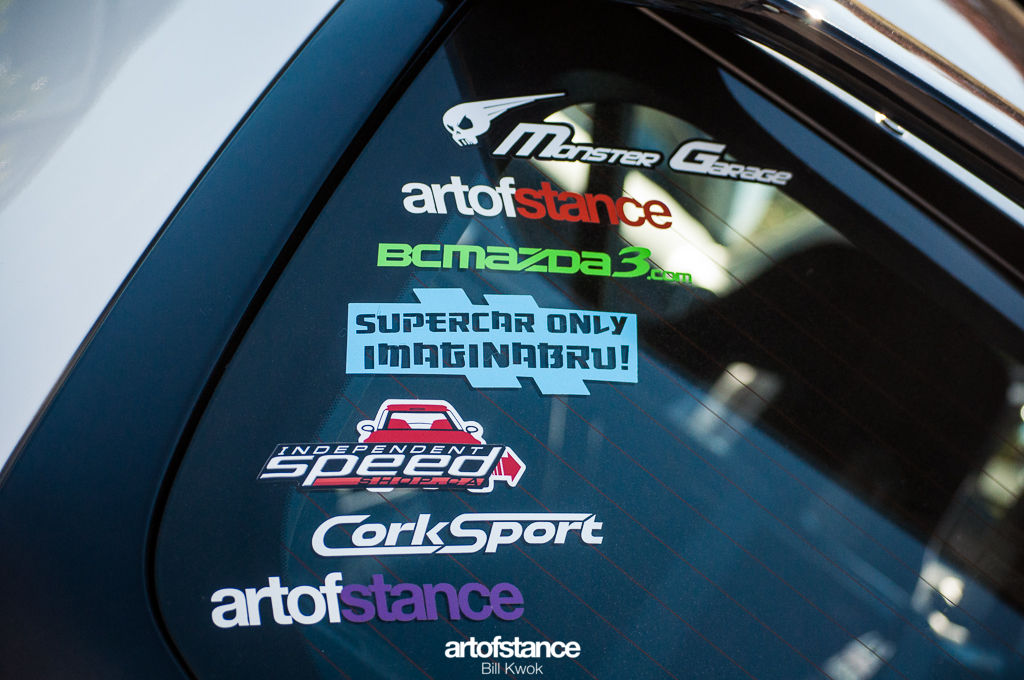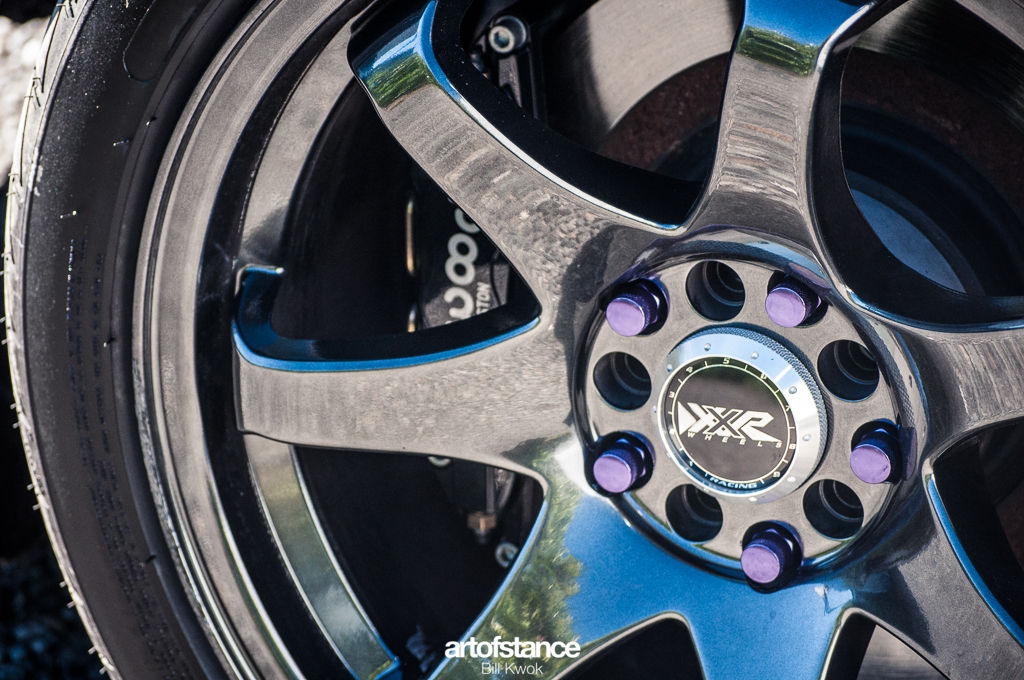 John enjoyed daily driving the car after turbocharging although he wished his clutch wasn't so !#@% heavy. So what future plans does John have for his monster hatchback?
Another engine rebuild is in order, plus the ECU upgrade. I am currently using the old Haltech F10X and that limits me at only 15psi of boost. The plan is to upgrade to Haltech S1000 and get the boost up to 25psi. Also I really want to put more time into building the upper portion of the engine (head works and cams). I am already running forged bottom end so that should hold well over 25psi (or so I hope :D)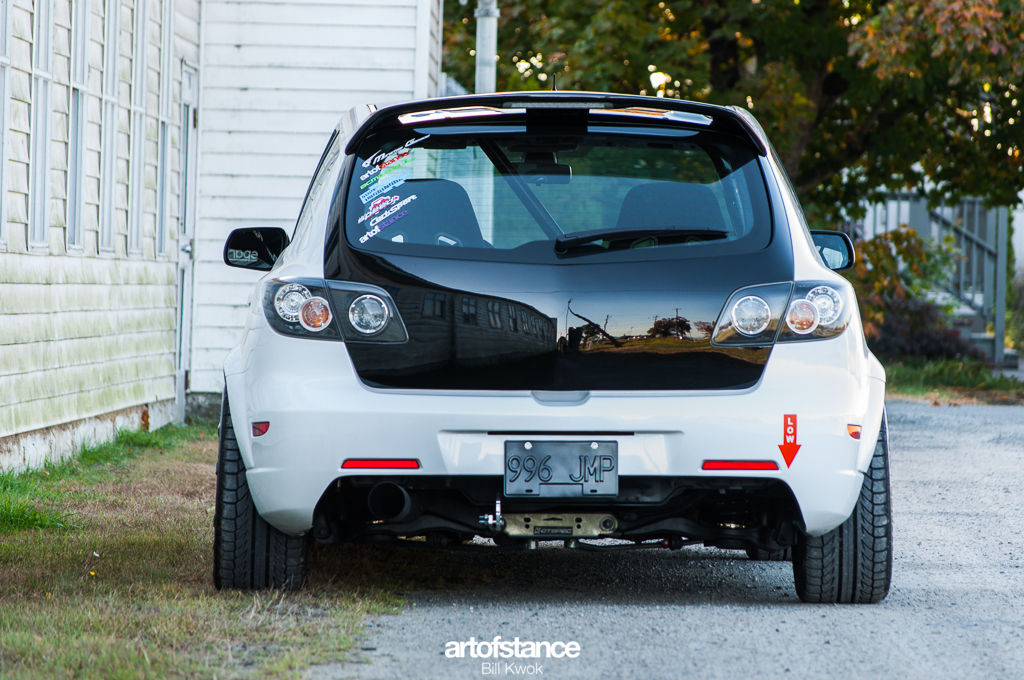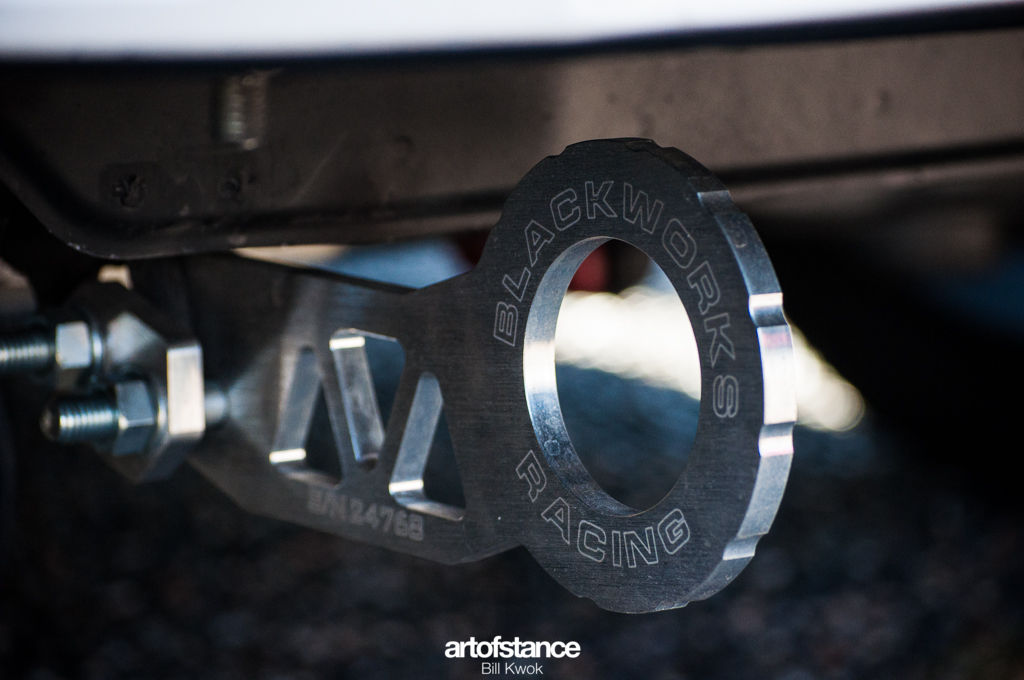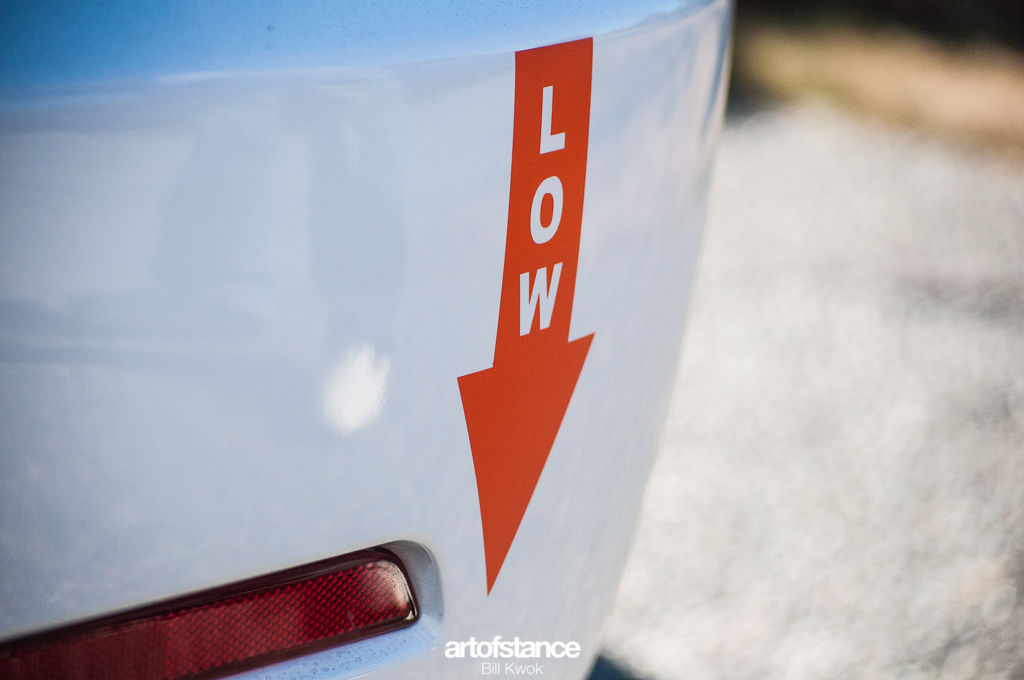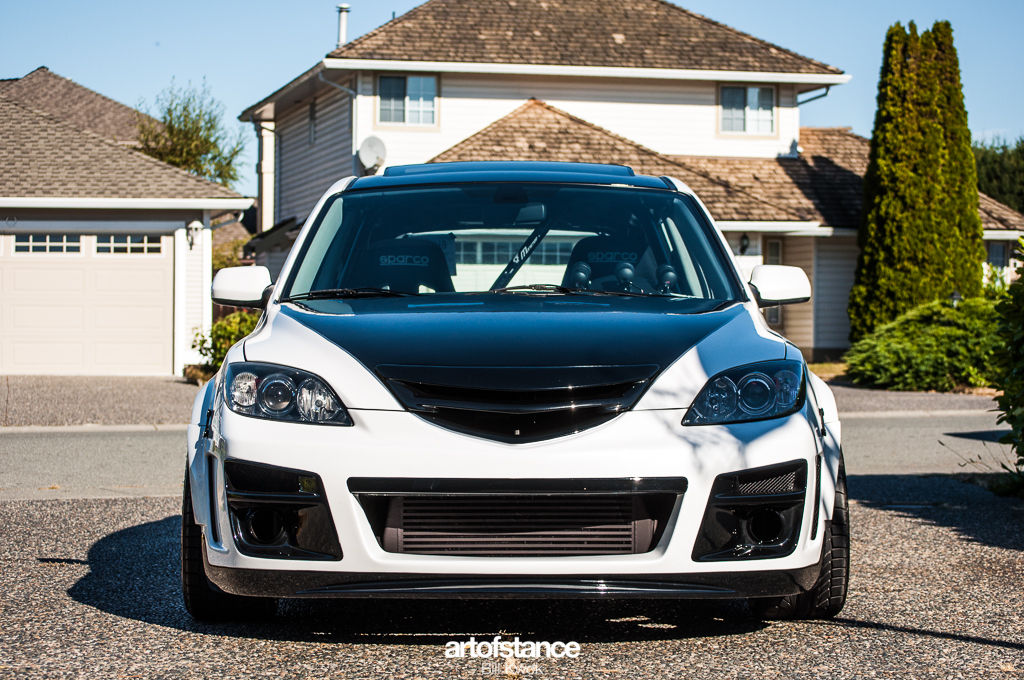 Engine:
Masterpower T3/T4 turbo at 14psi
Hiboost front mount intercooler
Hiboost cast-iron turbo manifold
Hiboost turbo piping
Haltech F10X stand-along fuel management
MSD tech drive
Greddy Type RS BOV
Tial waste gate
Weapon R intake manifold
Fujita air filter
AEM electronic boost controller
NGK Iridium IX spark plug (two step colder)
Supertech pistons with 9:1 compression
Eagle I-beam connection rods
Ford Ranger crank
MSD 43GPH inline auxiliary fuel pump
Walbro 255LPH in-tank fuel pump
Custom fuel pump assembly
Aeromotive A1000-5 fuel pressure regulator
Custom Five-O Asphalt 850cc injectors
Jegs 40 micron inline fuel filter
Russell braided oil and fuel lines
Custom 3" to 3.5" exhaust with Magnaflow glass-pack resonator
Genesis EP compact battery
Balance shaft delete
AC delete
Greddy oil catch can
ARP head studs
Retard timing
Drivetrain:
Mazdaspeed 3 six speed transmission
ACT 6-Puck stage III ceramic Mazdaspeed 3 clutch kit
TRZ "dogbone" rear engine mount
Street Unit transmission mount
Street Unit passenger side engine mount.
TWM short shift plate
Custom 6 speed short shifter
Suspension:
BC BR Type Coil Over
GT-Spec front ladder brace
GT-Spec rear V-brace
Vibrant front strut tower bar
Vibrant rear strut tower bar
Racing Beat rear sway bar
Wheel/Brake:
XXR 522 17×9" rims
Ichiba 38mm wheel spacers
BFGoodrich g-Force Sport Comp-2 245/17R40 tires
Wilwood Dynapro 6-piston front brake
Hawk HP+ rear brake pads
PDM Racing rear steel braided brake line
Exterior:
Autoexe BK02 front bumper
Autoexe BK02 front grille
Vis carbon hood
MS3 rear spoiler
N-Motion 6000K HID head light
N-Motion 5000K HID high-beam light
Custom two-tone paint
Custom carbon fiber wide body flare
Interior:
Sparco Sprint bucket seats
Momo Tuner steering wheel
HKS hub adaptor
Cypher Autosport 4-point harness
Custom center dash for gauge mounts
Red LED foot well lights
White LED map and passenger lights
Stripped interior (carpet, rear seat, and interior trim removal)
Autopower roll cage
Electronics:
Pro-Sport electrical oil pressure gauge
Pro-Sport electrical oil temperature gauge
Pro-Sport electrical boost gauges
Pro-Sport electrical fuel pressure gauge
Pro-Sport electronic tachometer with intergraded shift warning light
Innovate wide-band O2 sensor with AFR gauge
IEquss voltage meter
Sony Explod speakers
Fluids:
Royal Purple 5W30 motor oil
Royal Purple Max Gear 75W90 transmission oil
Motul DOT 5.1 brake fluid
[h3]345BHP, 389ft/lb torque[/h3]