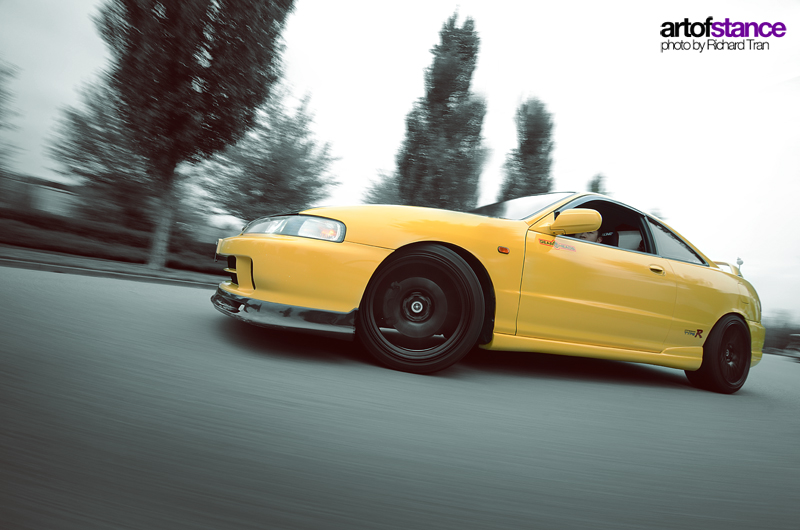 AOS Raffle Winner 2 – Acura Integra Type-R
Ed was in the market for a new car after being in involved in an accident in his Nissan NX2000. He narrowed down his choices for a replacement to the Lexus IS300, Honda S2000 or the Acura Integra Type-R. He was immediately drawn to the Integra that was listed on Revscene and Craigslist. This was the second Type-R Ed looked at after viewing a rebuilt. After a phone call, meetup, and a ride around, "Kaori" was his.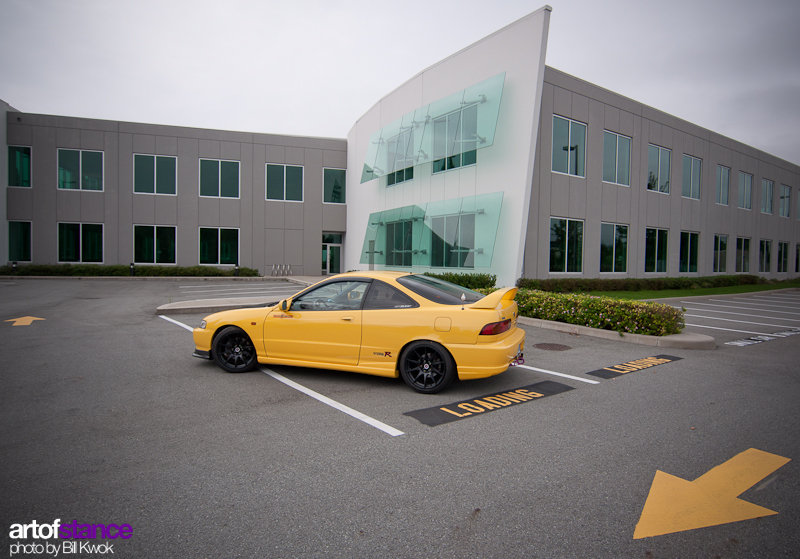 So why did Ed decide on an Integra Type-R?
"Back when I was in grade 7, my Uncle bought a stock 2000 Phoenix Yellow ITR. The only experience I had with the car before was in Gran Turismo, but I already knew the car's potential and racing heritage. He lowered it, had a JDM front conversion, AEM CAI and carbon hood. One night, he lent her to me and it was a blast driving around town. I loved the mechanical feeling in the steering, pedals and shifter. No electronic interruptions, just man and machine. I thought, "I have to have one of my own someday." When it came around time for him to sell her, I was pretty upset that I couldn't afford it. She still is alive and kicking around somewhere."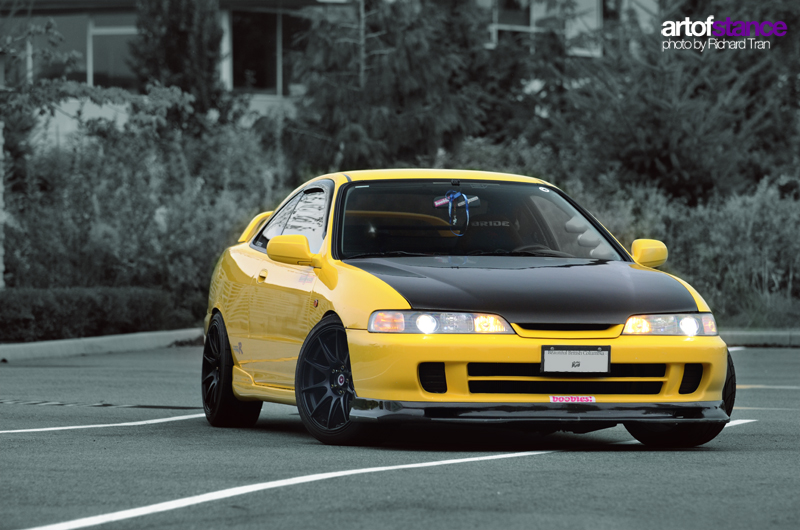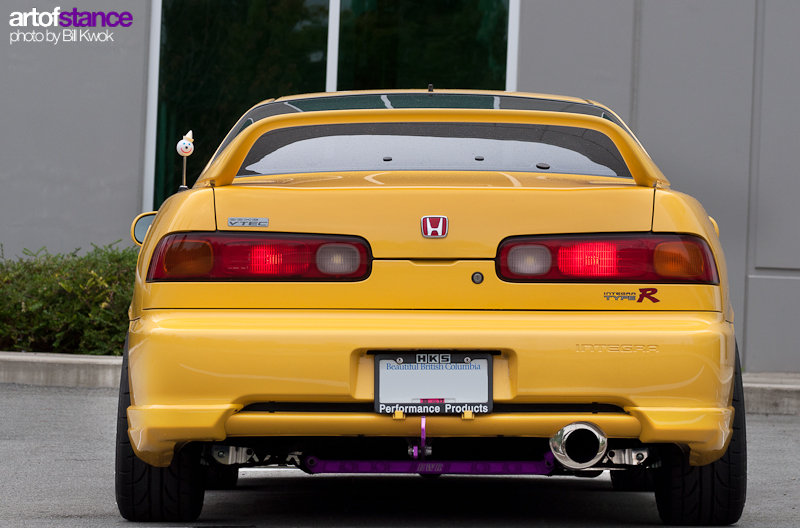 Ed's build process started right after he got the car. A full clean inside and out was at hand including regular maintenance and redoing a bunch of wiring. From there, Ed got the entire head built and dyno tuned. This all occurred during April to October of last year. During 2011, Ed acquired a new seat and harness bar. All the suspension was done in the summer and also the wheels.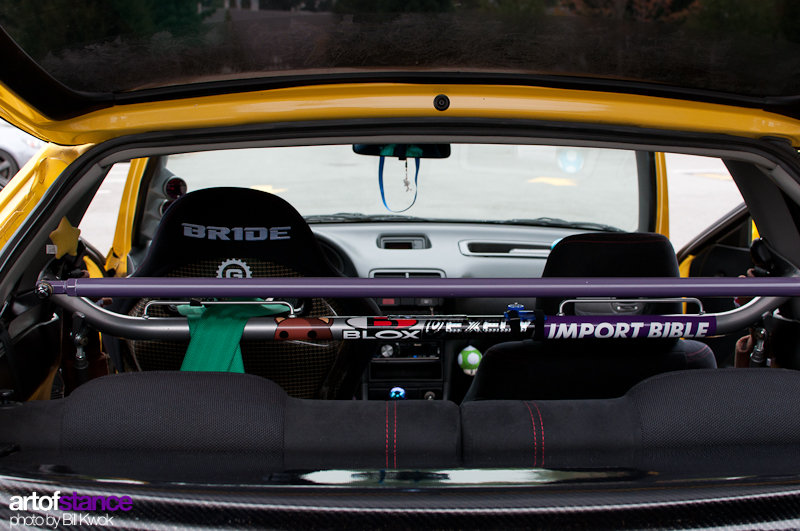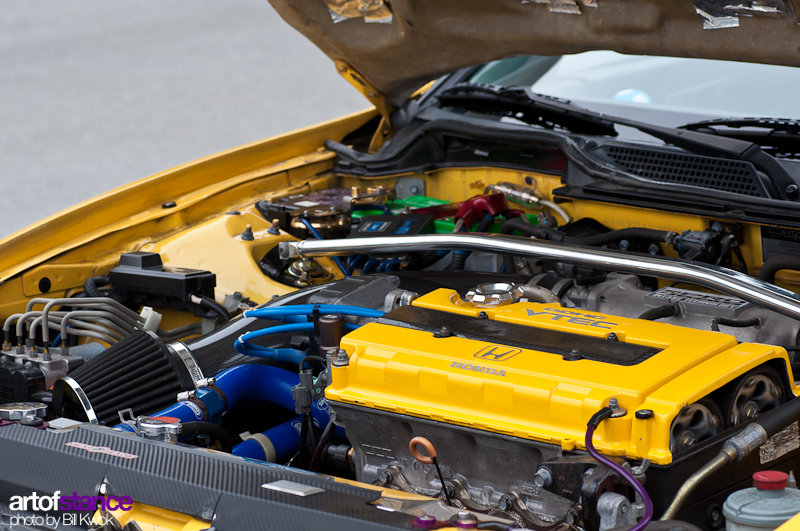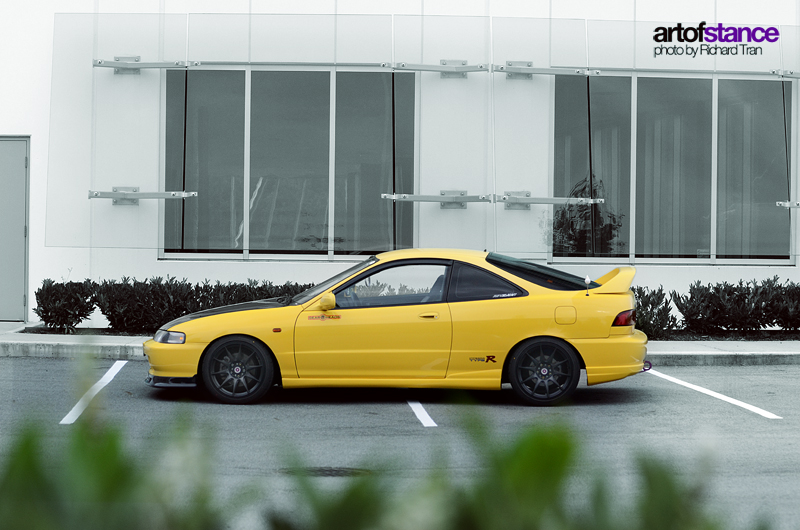 Engine:
Spoon Valve Cover
Spoon Oil Cap
Password:JDM Carbon Fiber Spark Plug Cover
NGK Spark Plug Wires
Denso Spark Plugs
Rocket M22X Camshafts
Supertech Valves
Blox Racing Cam Gears
Blox Racing Valve Springs
Blox Racing Valve Retainers
Blox Racing Max-Flo Header
Blox Racing Cam Seal
Blox Racing VTEC Solenoid Cover
Blox Racing Tuner Throttle Body
DEI Titanium Header Wrap
Blox Racing Adjustable Test Pipe
T1R 63S Cat-Back Exhaust
Buddy Club High-Comp Headgasket
NRG Cooling Plate
J's Racing Carbon Fiber Intake
Skunk2 Intake Manifold
Hondata Headshield Intake Gasket
Koyo Racing Dual-Core Aluminum Radiator
Samco Silicone Rad Hoses
Dual FAL Electric Rad Fans
Mugen Rad Cap
Blox Racing Rad Stays
Toda Flywheel
Exedy Clutch
Hondata S300J
Rywire OBD Converter
Buddy Club Condensor
HKS Earth Ground System
BWR Fender Washers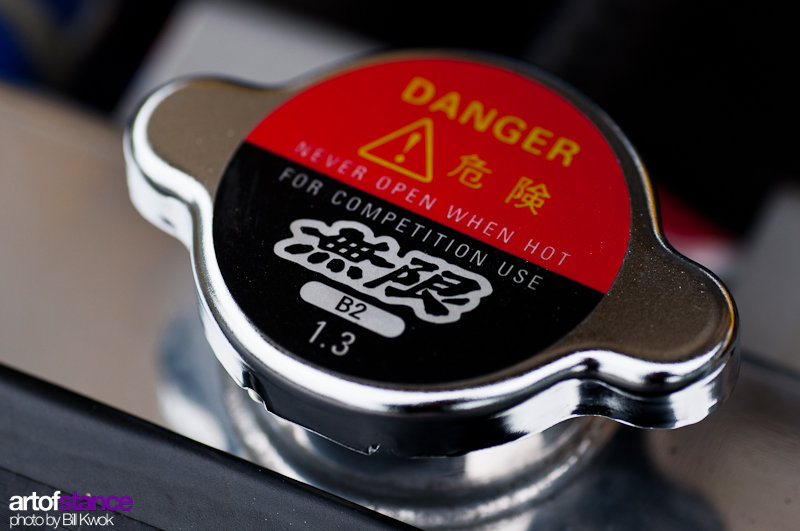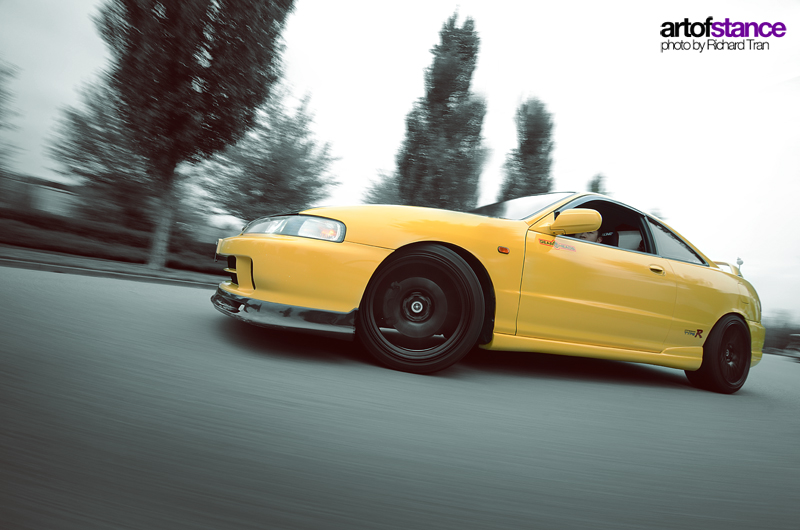 Suspension/Chassis:
T1R B-Max 52 Coilovers (F:12K R:10K)
Blox Racing Competition Front Camber A-arms
Blox Racing Rear Camber Kit
Function7 Rear Lower Control Arms
BWR Rear Lower Tie Bar
HRP Coilover Covers
Spoon Front Strut Tower Bar
Password:JDM Rear Strut Tower Bar
Password:JDM Trunk Brace
Sparco Harness Bar
J's Racing C-Pillar Bar
Password:JDM Shifter Bushings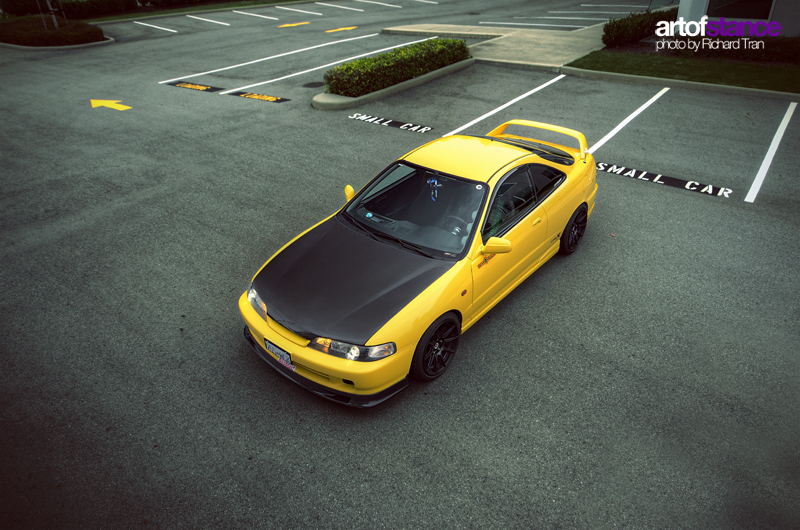 Brakes/Wheels:
Powerslot Rotors
Goodridge SS Lines
XXR 527 Flat Black – 17×8.25″ +25
Dunlop Direzza Sport Z1 Star Spec – 215/40R17
Muteki SR48 Lug Nuts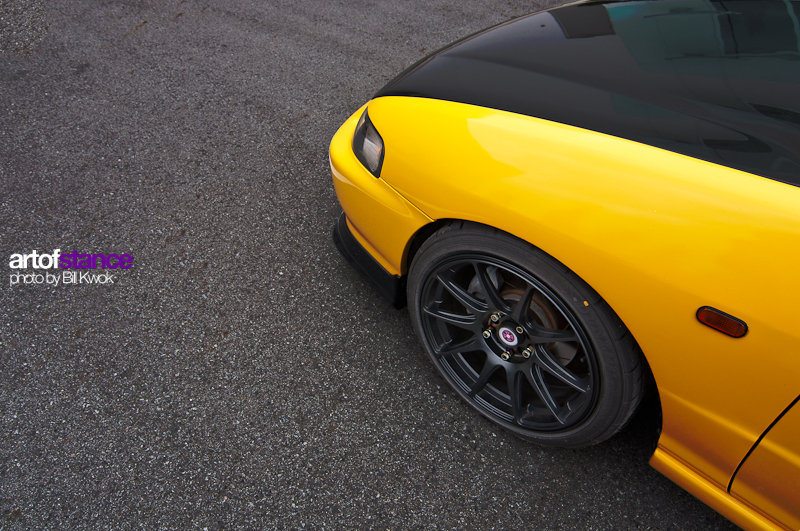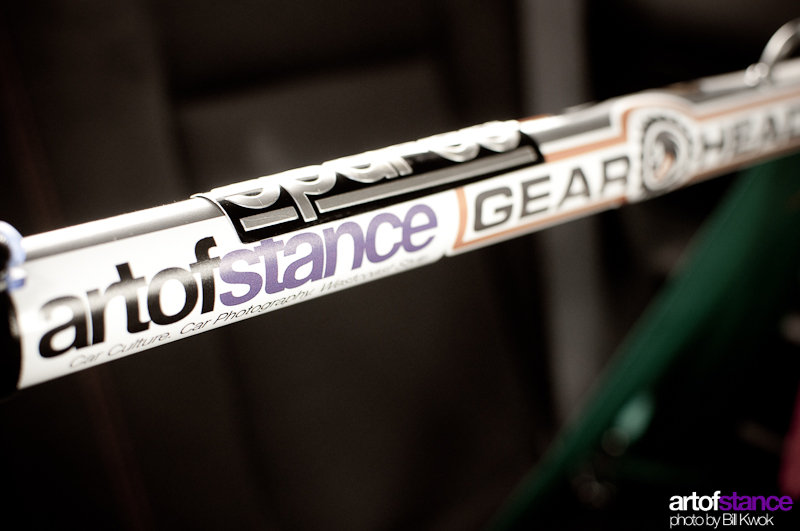 Exterior:
98-Spec JDM Front Conversion
JDM Side Markers
Spoon Carbon Fiber Lip
Spoon Carbon Fiber Hood
Philips 4300K HID
OEM Optional Kit
JDM Window Visors
Password:JDM Rear Tow Hook
JDM Type R "H" Badge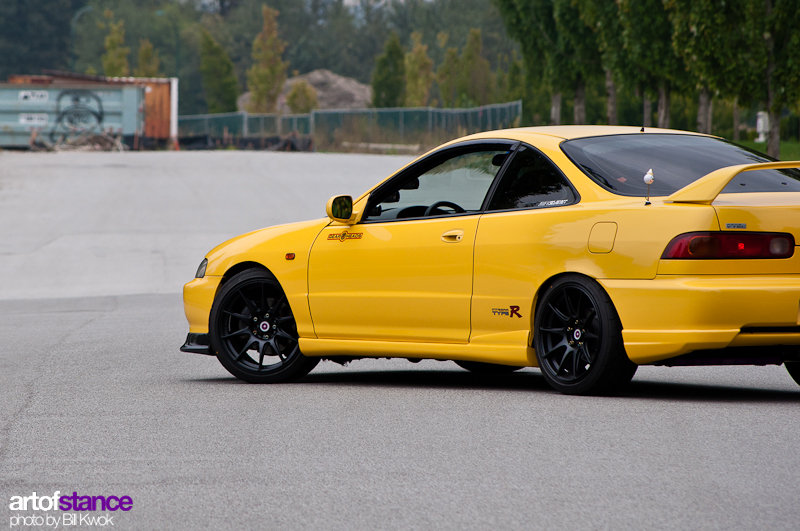 Interior:
Bride Gias LowMax Seat
Takata 4-Point Harness
Momo Tuner 320mm Steering Wheel
JDM Honda Horn Button
NRG Quick Release
NRG Thin Hub
Mugen Pedals
Skunk2 Short Shifter
Blox Racing 490LE Shift Knob
Spoon Rear View Mirror
Prosport Gauges (Oil Pressure, Oil Temp, Water Temp)
Password:JDM Carbon Fiber Airbag Block Off Tray
Password:JDM Carbon Fiber Privacy Cover
JDM 98-Spec Plaque
JDM Roof Console
JDM Type R Key
Ed's future plans is working on the bottom end of the car and some stuff that we'll just have to wait and see but it does including 10,000 rpms! Ed loves it when Kaori kicks it into VTEC and he plans never to sell her ever. Forever Aroneee Ed but we love your car!
So Ed who would you like to give a shout out to?
"My family and friends, big shout-out to the guys at Gearheads, my friends at Niteshadow (especially Ray for this opportunity, Thanks Ray!), the guys at artofstance, and anyone I forgot, sorry"
We can't wait to see what you have in store in the future. Ed does track the car but unfortunately could not make it this season. Artofstance can't wait to see Kaori at the track next year!