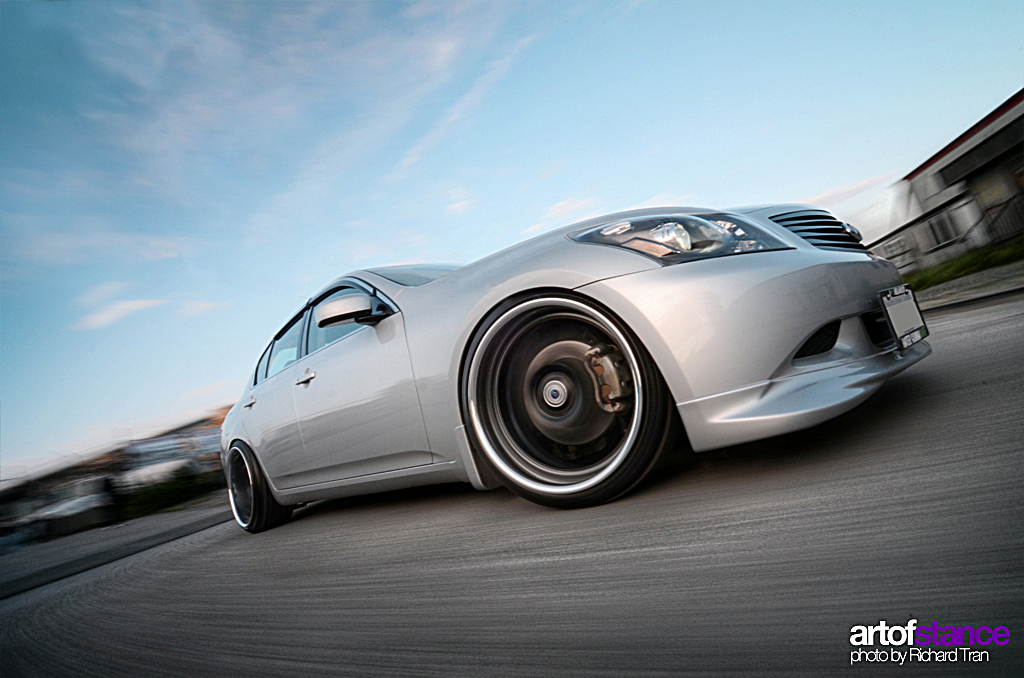 Stance Stance Revolution
This isn't your Uncle's Infiniti G35 sedan or even your Richmond C-lai bump and park the car G35. No, this rolling silver stanced piece of art belongs to Manny Jakhar. Manny wanted his sedan to stand out from the crowd; to bring something different to Vancouver. The lower mainland has a lot of modified cars but you seldom see ones of the stanced or hellaflush variety.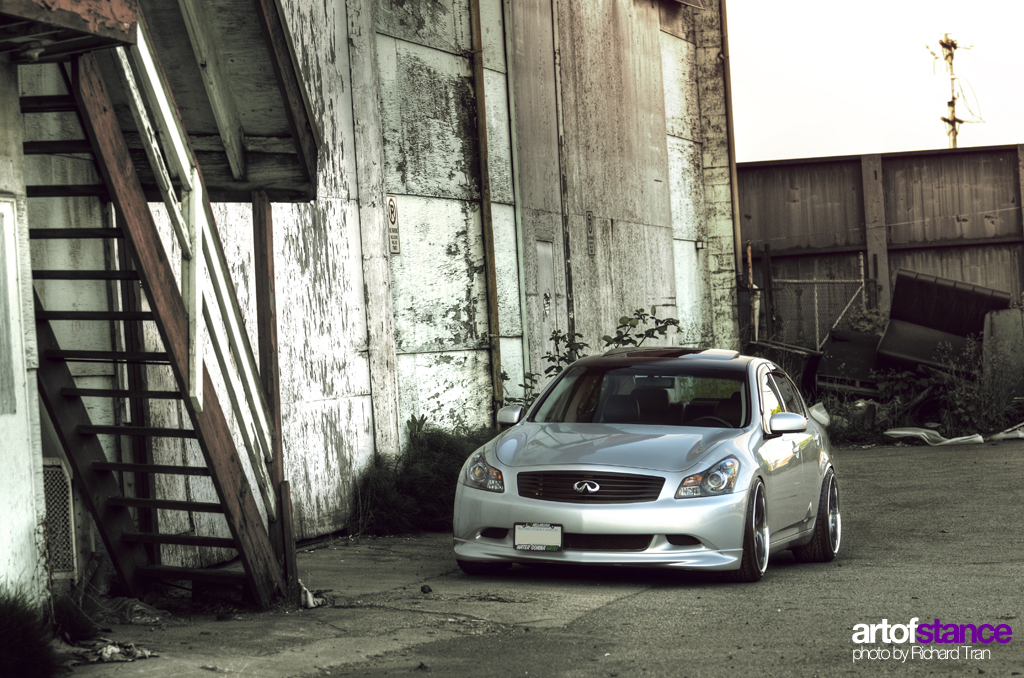 It was really important to Manny that the car was clean and classy. The rear emblems of the trunk were removed and what was left was a clean back end. Did that sound dirty? Trust us this car is clean! At Revscene's spring meet, the three of us were in awe at how great the car looked. How smooth the fenders were massaged by the guys at The Speed Syndicate. Sometimes it even goes unnoticed by fellow G35 owners, speaking volumes of the quality of the pull. We weren't the only ones amazed by the car. It may not be the flashiest, but it does turns heads and gets thumbs up whether Manny's driving it down the street or if its parked.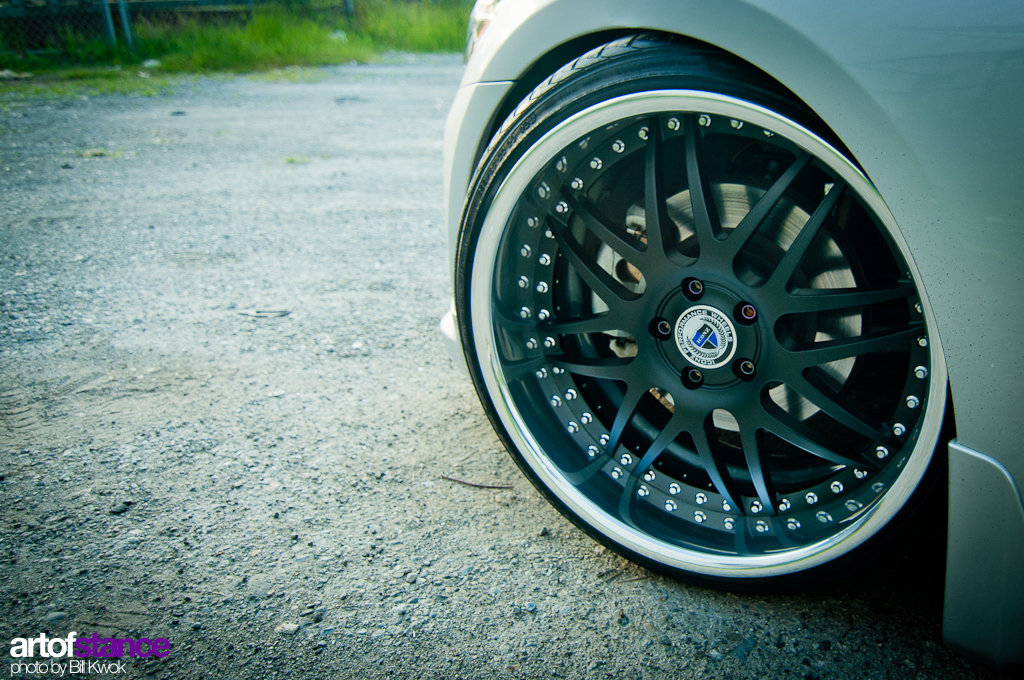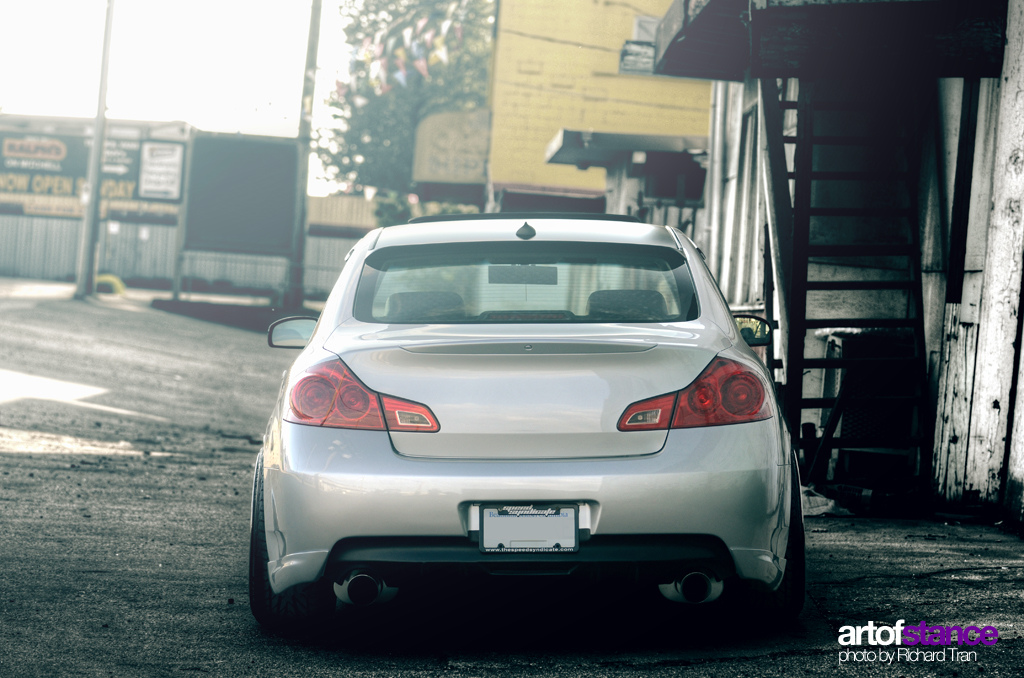 Right now as the car stands, most of what Manny wanted to do to the suspension and exterior in terms of modifications are done. Next on his list is a R2C or Stillen intake, a big brake kit and possible air ride suspension. When the Infiniti's warranty runs out, Manny would like modify the engine with a supercharger or twin turbo set up.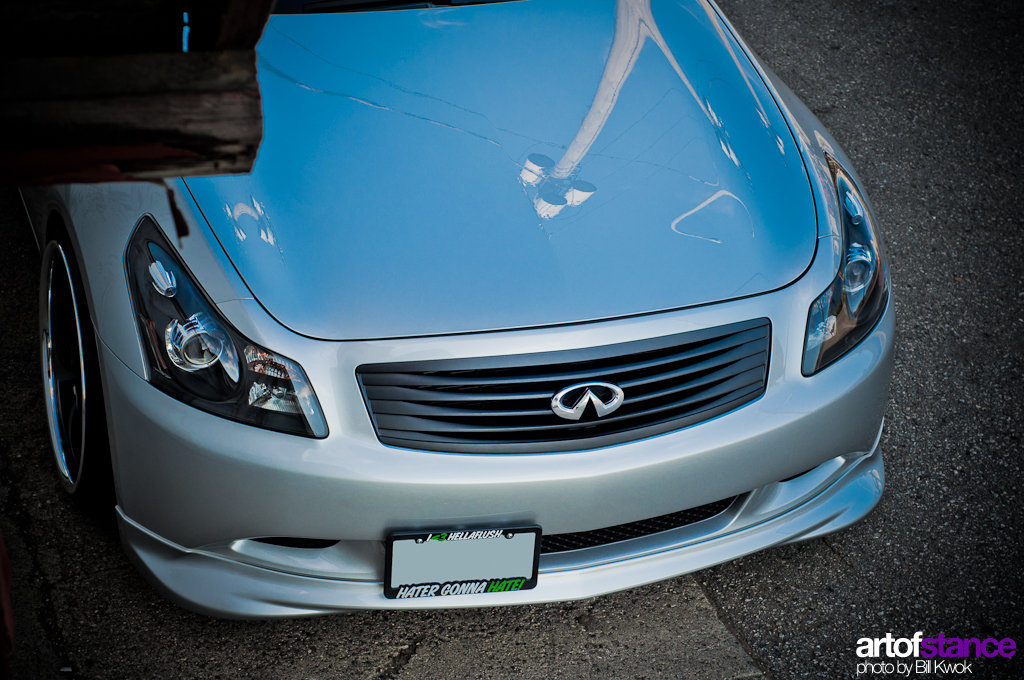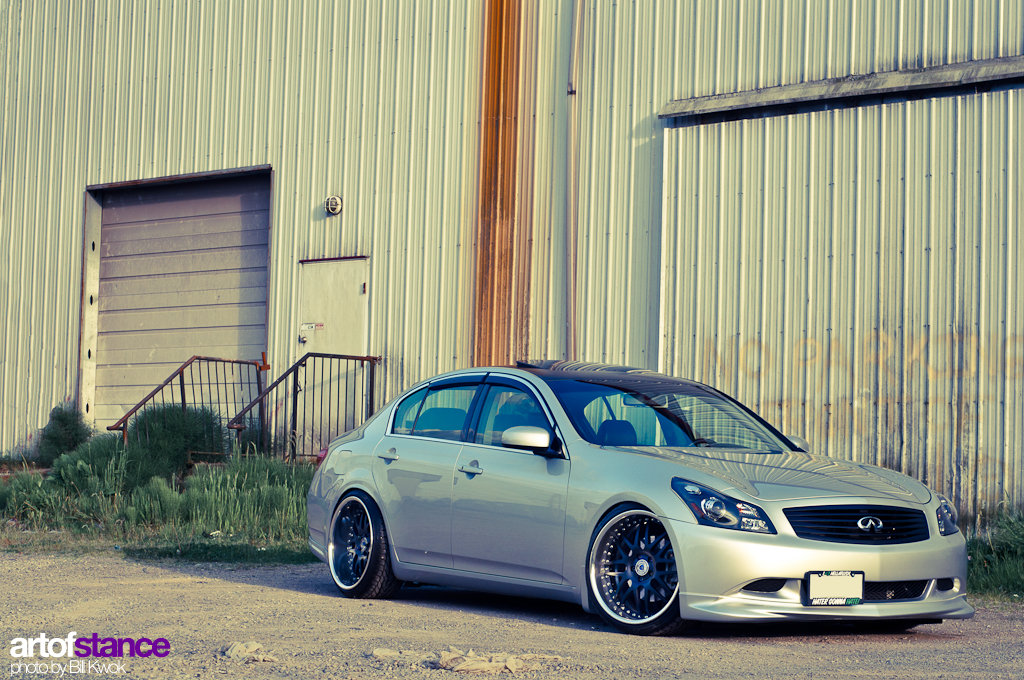 In Manny's words:
"The car is a garage queen, its a 2008 with 17k on it. It rarely gets driven which is why very few people see it on the road. Last season, it looked quite different and has only really come together in the last two months. When we fit the new wheels on the stock body, we had to run a -5 degree camber on the rear wheels just to clear the fenders, and people were stopping me at lights saying "There's something very wrong with your car". When non-enthusiasts are stopping you in the street to tell you that there's something wrong with the car, it's a sign that something needs to be done. Two days later, it was back in the shop for the amazing fender pull. After the alignment, it was brought back to -2.5 degrees, which I'm very happy with."
"First I'd like to thank Alex, Curtis, and Kevin from The Speed Syndicate for their amazing work. I've never met a more accommodating group of guys and none of this would have been possible without them. Next, I'd like to thank Brendan from Project Detail who keeps my car looking immaculate as well as Dimmy, Adon, and Kevin for their advice and knowledge. Lastly, I've got to thank my girlfriend who has put up with my bad modding habits for the past 5 years on 2 different vehicles"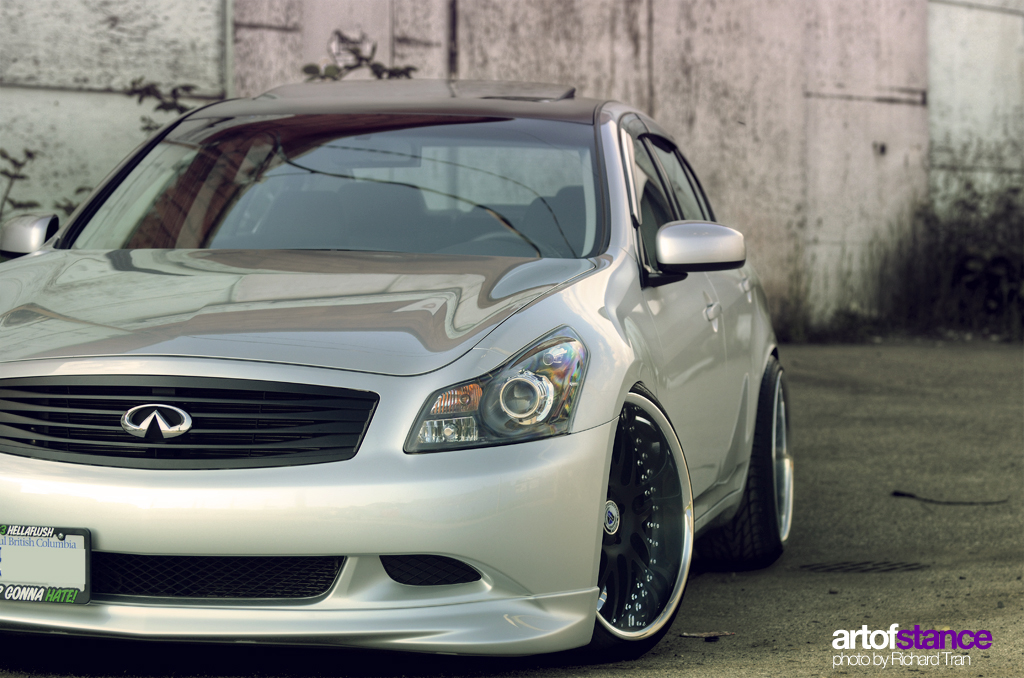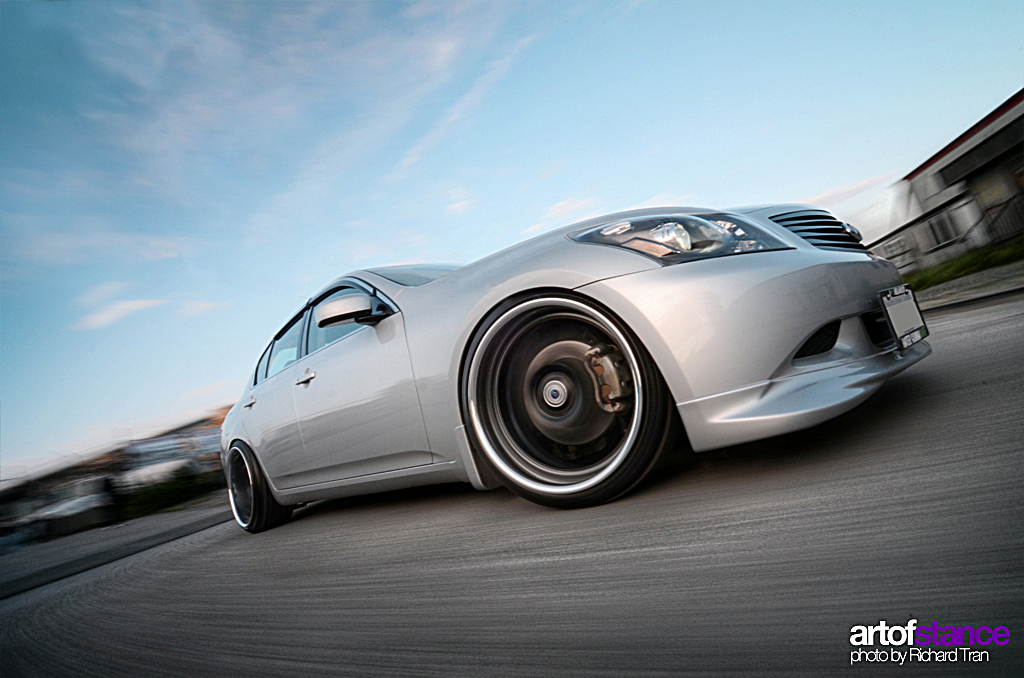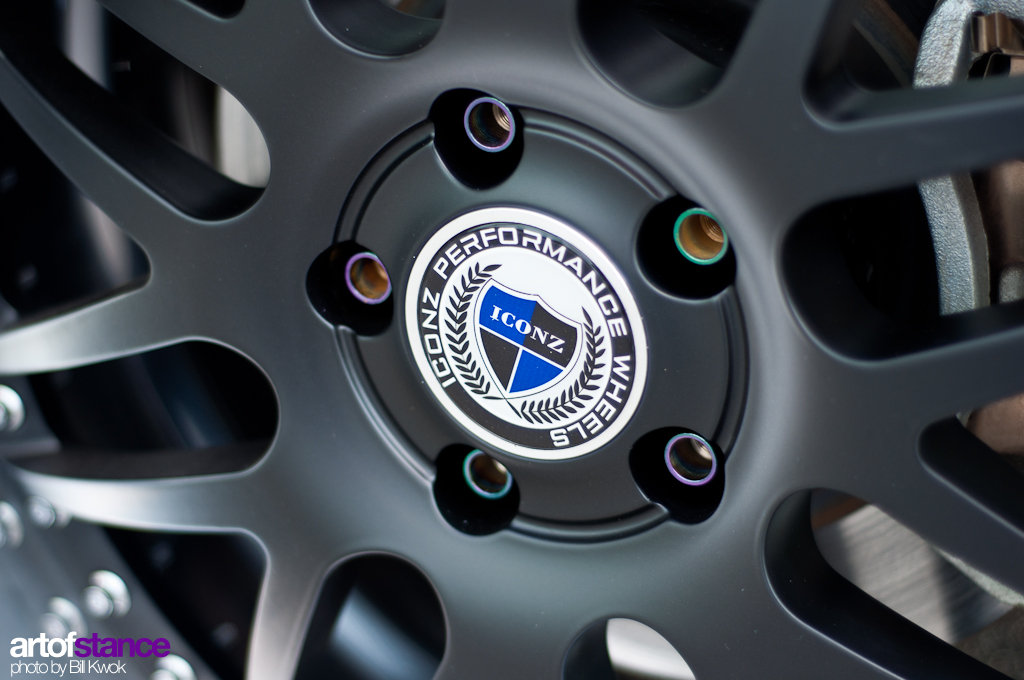 It wasn't an easy process for Manny to get the car to what it is now, but for him, it was well worth it! We believe he set the bar high for those who want to follow in his direction for a clean stanced ride.
Exterior:
OEM front sport lip
Matte black painted grill
Matte black painted roof
Matte black painted headlight housings
Stillen roof spoiler
Autokits-X rear diffuser
Kenstyle rear aprons
OEM JDM Nissan Visors
Pulled rear fenders
Performance:
Stillen cat back
Custom Sena grounding kit
Suspension:
JIC FLT-TAR coilovers
Hotchkis front and rear sway bars
GTSPEC front strut bar
GTSPEC front subframe tie brace (L+R)
SPC camber kits
Wheels/Tires:
ICONZ Forged Performance wheels 880 ZR Matte Black
Front: 20×10, offset: +10
Rear: 20×10, offset: 0
General Exclaim UHP 235 35 20 all around
Project Kics neo-chro lugs
Stereo:
Jl 500/1 amp
JL w6 sub
Custom ported enclosure