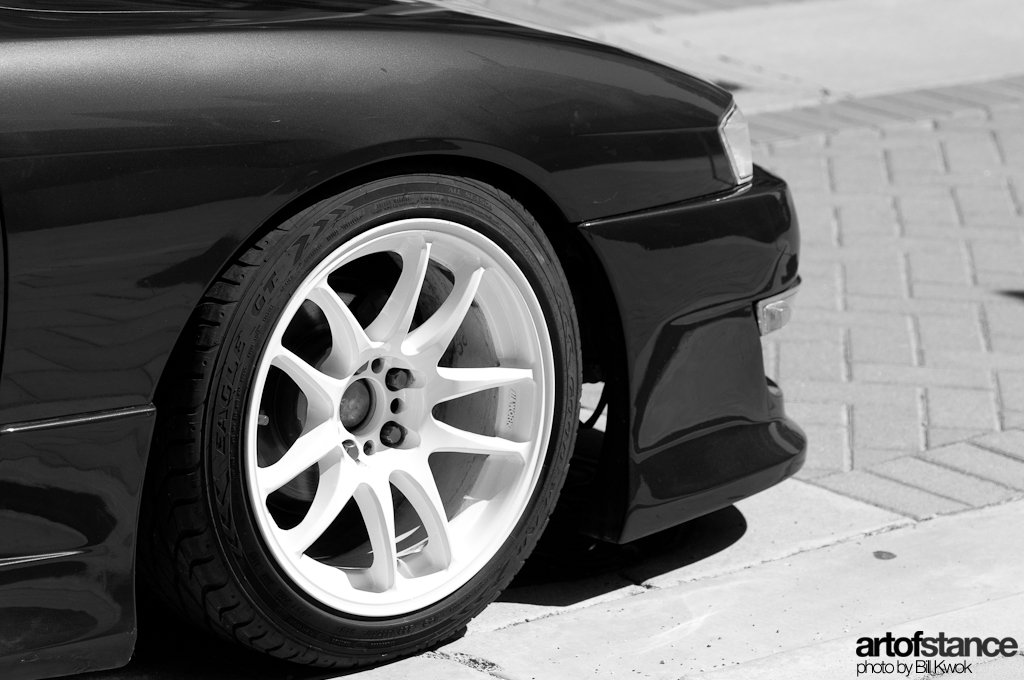 Daily Driven – A Trio of Kouki Silvia S14s
Recently I was asked by Vincent Tong to come photograph some Kouki S14s. Vincent owns a green 1997 Nissan 240SX, his second one after owning an earlier Zenki model. Two more Kouki S14 owners, James Kent and Nick Louie were also able to come out for our photoshoot.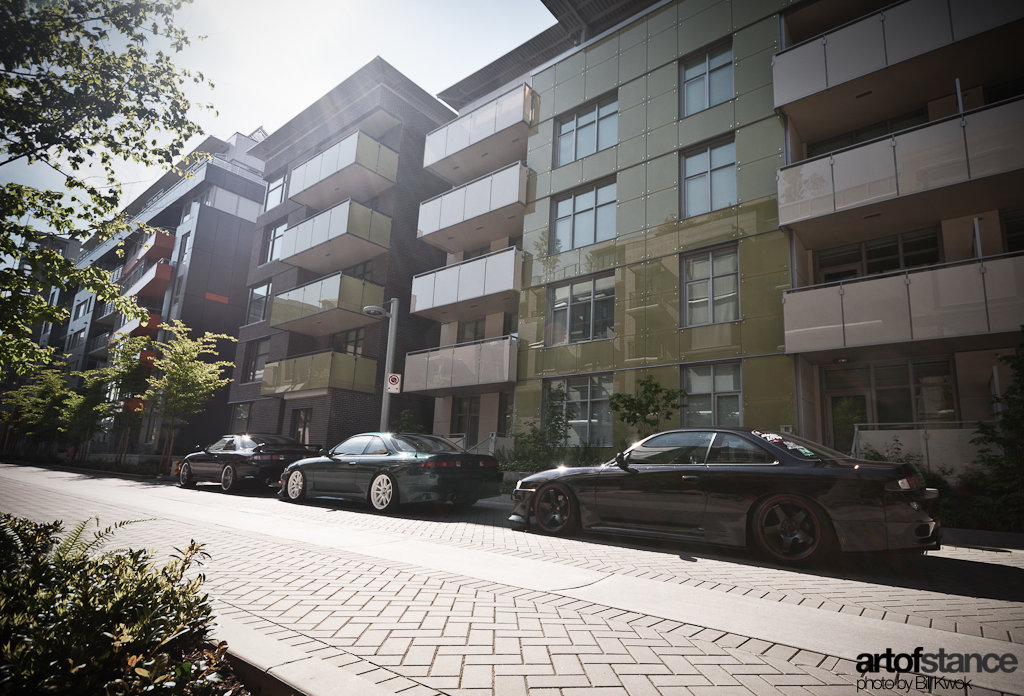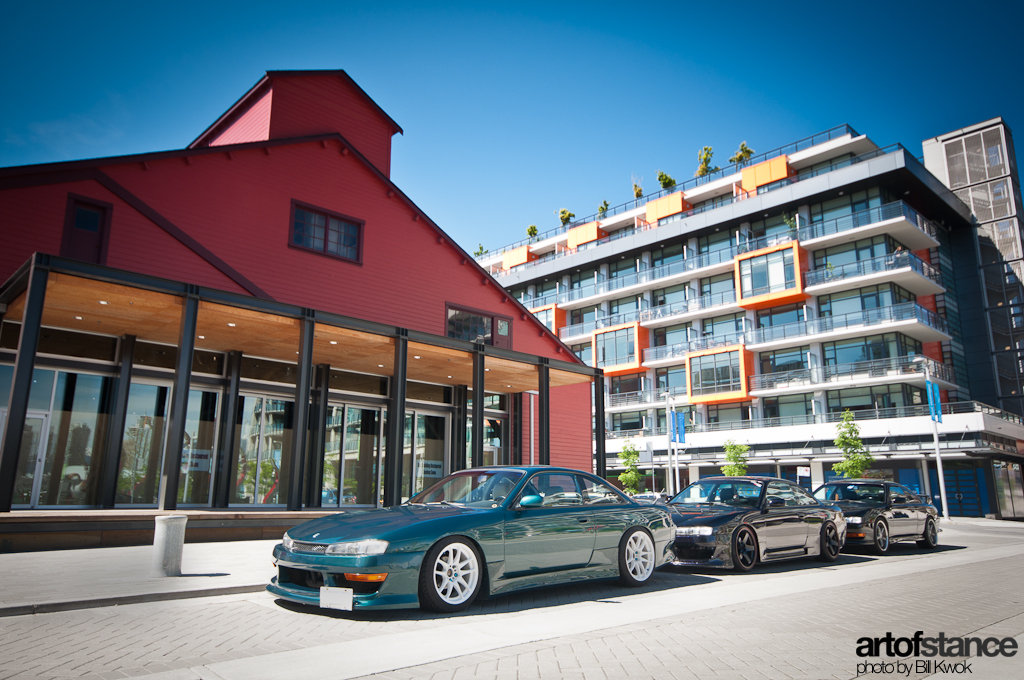 Vincent's green S14 sports a staggered wheel setup on Work Emotion CR Kai 17×9 +17 (+8mm spacer) in the front and 18×9.5 +12 in the rear. His suspension consists of STANCE LX+Plus coilovers, SPL Parts toe rods and tension rods, Battle Version RUCAs and a Greddy strut tower bar. Vincent has also added an AEM short ram intake and a Blitz Realize TT exhaust.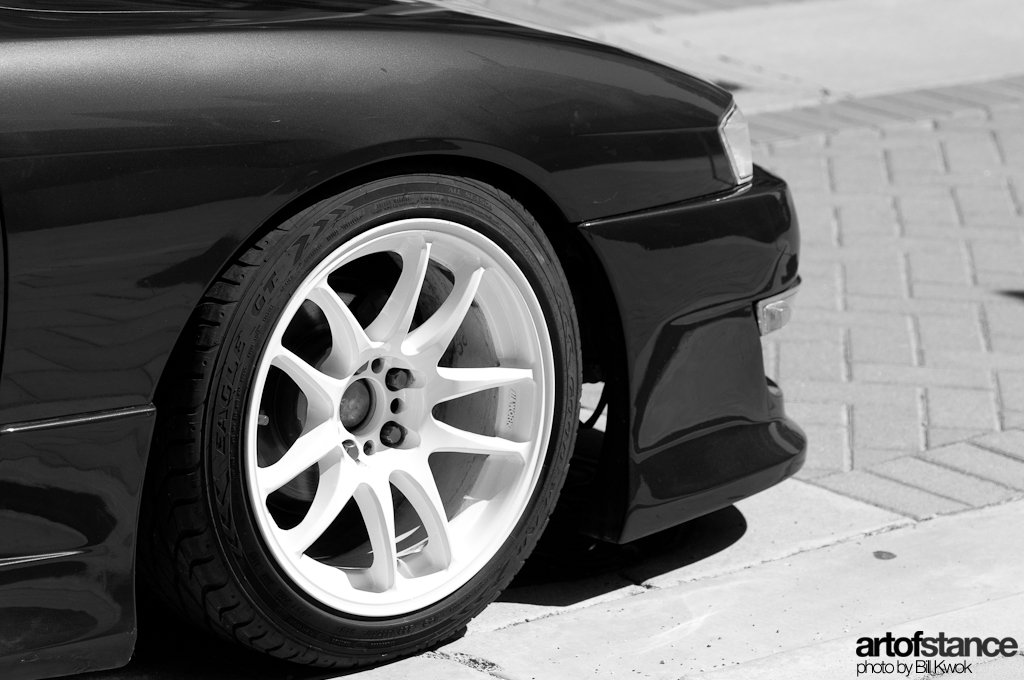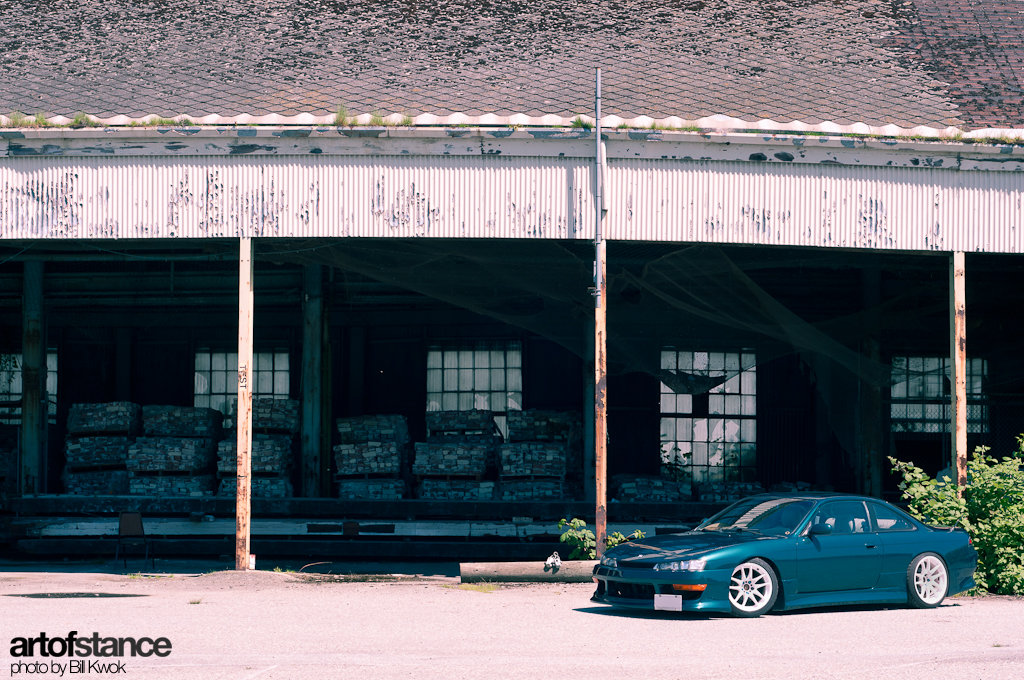 Why did you choose a Nissan 240?
I chose the S14 240SX (Silvia) because I think it is a stylish and excellent "bang for the buck" type of car. My current S14 is my 2nd one, my first one was a 1996 Zenki (early model with the rectangular eyes). It was a cool and reliable car and I wanted to get a second one.
Since I got my 1st one, I've was inspired by Jayson Pizarro, who was and is one of the pioneers of stance and 240SX styling. Back in 2005, his black S14 kouki broke out with stance, before everyone even knew what "flush" and "hellaflush" was. Those terms were not even coined and didn't exist yet.
I was inspired by this black S14 so that when I got my 2nd S14, I wanted to get a late model (Kouki) and get it done up in a similar style. Jayson's silver one was insane, and IMO one of the nicest S14's of all time.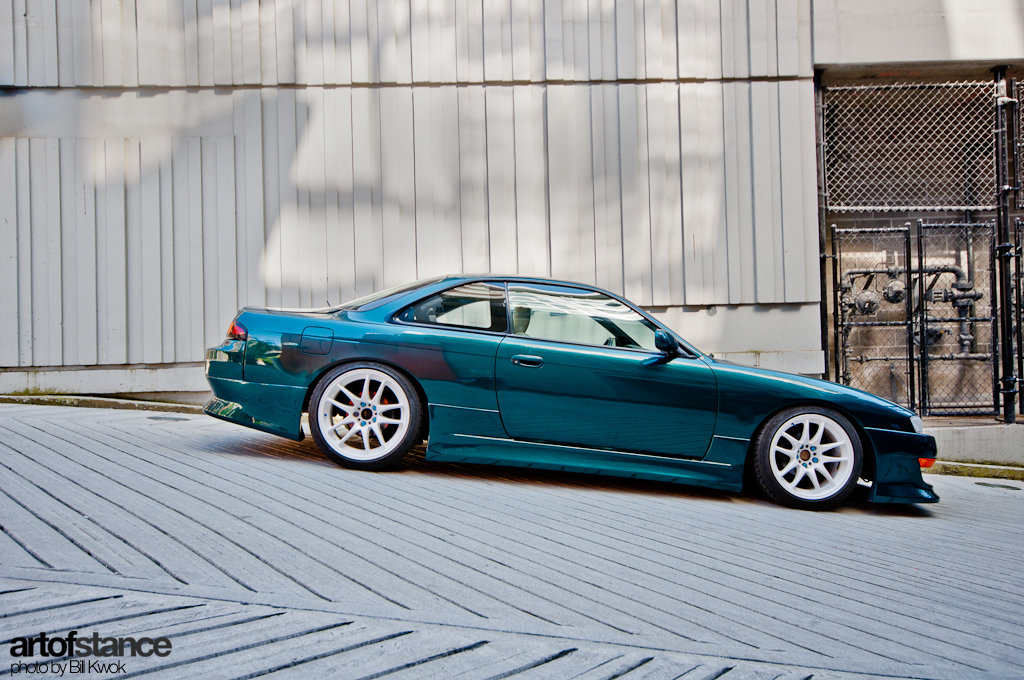 What's it like to have this car as a daily driver?
I like it as a daily driver, it's relatively comfortable rolling on the Stance LX coilovers. I'm not super slammed so I can drive to most places OK. I know the routes of most of the places I go; and I take speedbumps at angles. I don't get any hassle from anyone including police, but I am concerned when driving in Richmond.
What are people's reaction when they see your car?
Usually people don't have a reaction. Young kids sometimes point. Some teens give me a thumbs up or something. Nothing negative, it's always positive.
Any shouts out to anyone?
Thanks to: God, my girlfriend for putting up with my car, Soh K, Aki and Sean from Unico Japan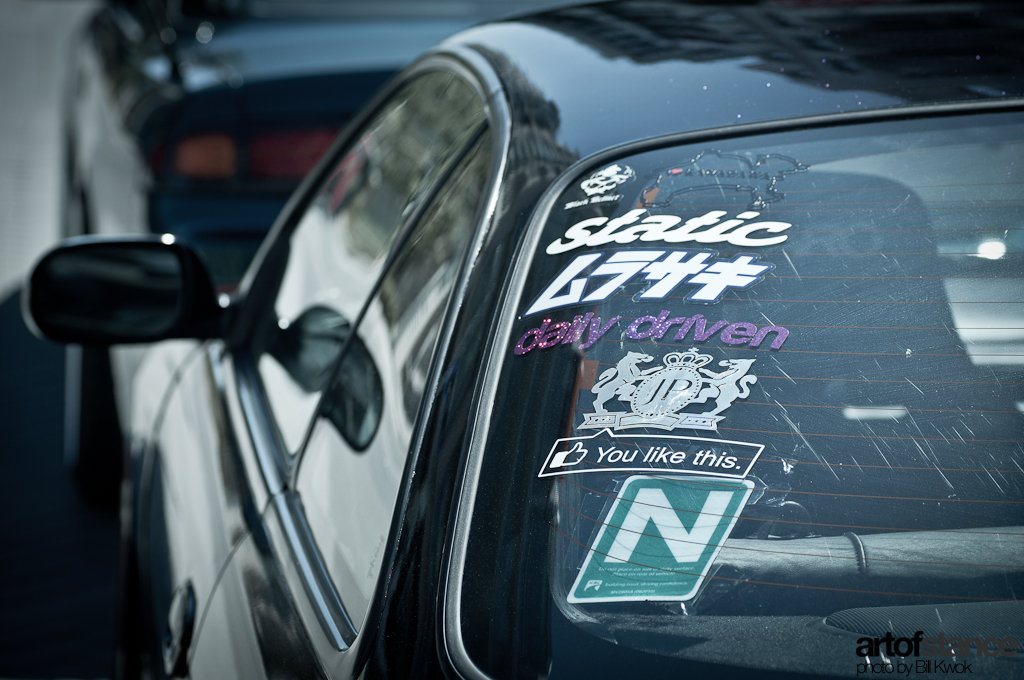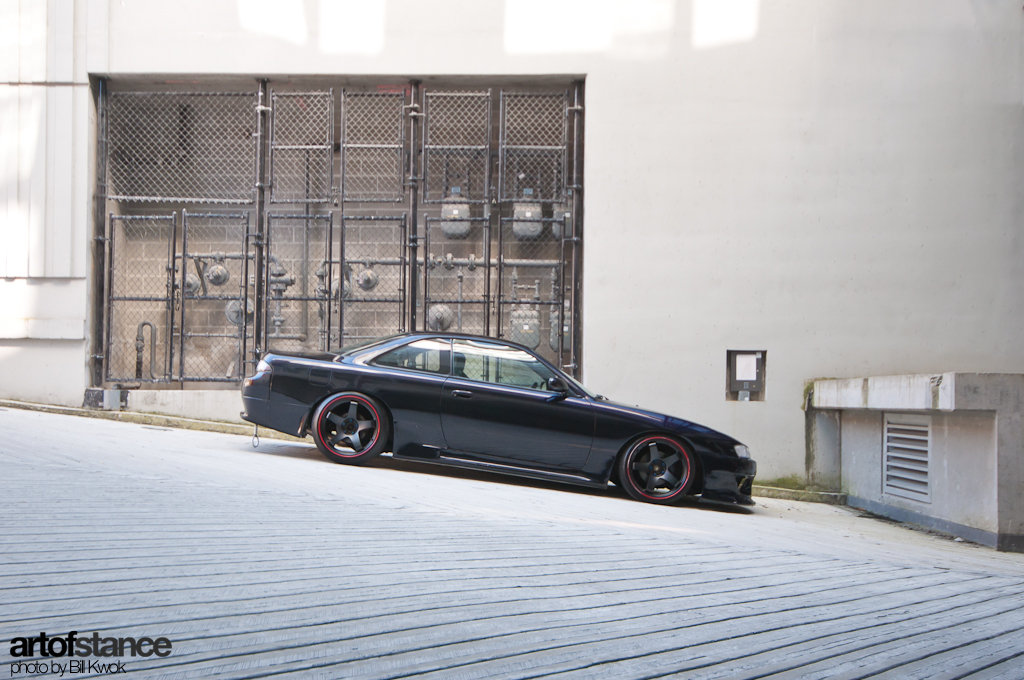 James Kent's deep midnight purple 1997 240 has the most aggressive stance of the trio. Lowered on Megan Street Series coilovers, his daily driver seems to scrape on everything but he's ok with that. He loves everything about his car and in the end, that's what counts.
Why did you choose a Nissan 240?
For me it was an easy choice. My girlfriend is half Japanese and I've been to Japan few times to visit her family, who just happen to live at the base of a popular mountain for touge drifting. I remember seeing amazing street drift cars everywhere and the Kouki S14's always looked the meanest and most aggressive to me. I had to have one. I finally came across this car locally, a bone-stock red 97, and the rest is history.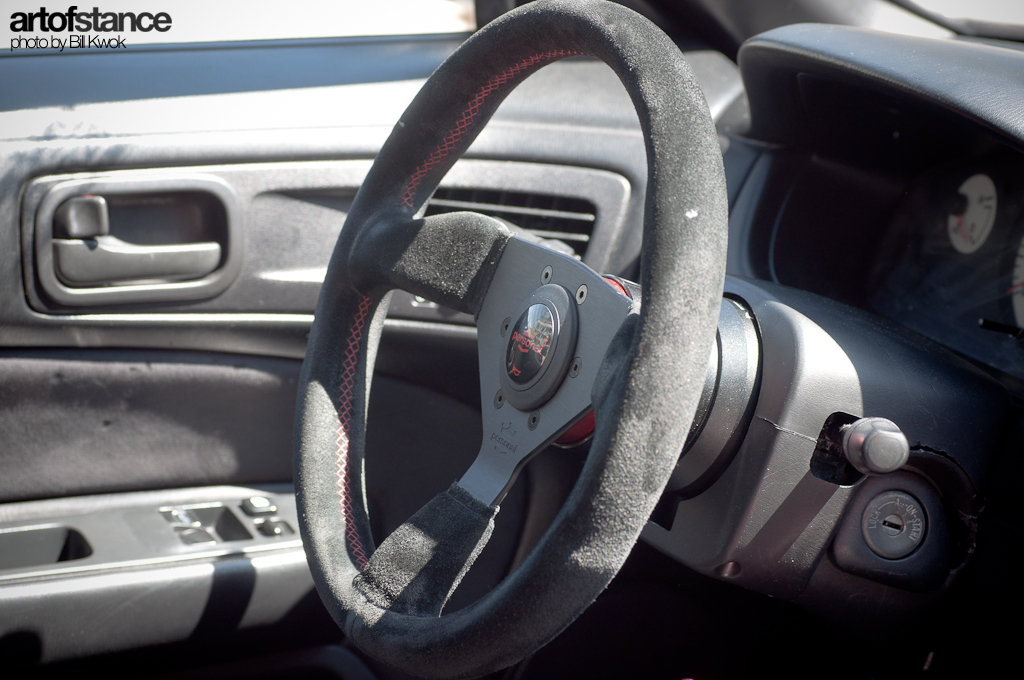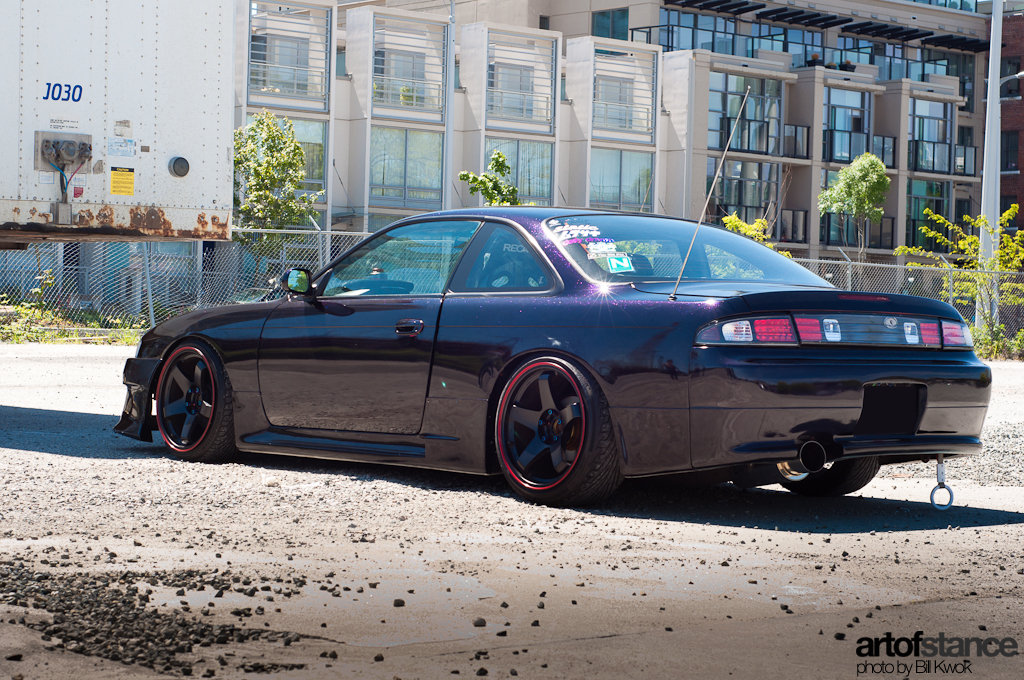 What's it like as a daily driver?
My daily commute is pretty short and I barely need to take it on the highway for anything, so it probably doesn't inconvenience me as much as it would for others. The only downside is that I live in Vancouver. Where every parking spot is curbside parallel parking, which with all the stretch, poke and camber can be a pretty nerve racking ordeal.
What are people's reaction when they see your car?
This car gets a lot of attention seemingly everywhere I go. I initially built this car to be very low key: dark colour, black wheels, spoiler-less, etc. In reality it turned out to be quite the opposite, which I must admit, I kinda like. People definitely love the paint in the sun and I always get the random head nod of approval from other drivers or kids at bus stops. It keeps me motivated to continue to add to this car and not get bored of it. It's easy to get sick of how your own car looks, so I like to be reassured by others. I just wish this car didn't attract so much attention from the police as well…
James had an interesting story to share about the first time he got a V.I (vehicle inspection).
One day, about a WEEK after my car came out of the paint booth, I was driving back to work from lunch with a buddy of mine. I see a cop driving the opposite direction (with a divider in between) and his face lights up as he sees my car pass. Next thing I know he's somehow behind me and lights me up. Now, this is when my car was at its most slammed…I actually had overdone it a little and the passenger side rear fender was literally sitting on the tire sidewall, but I hadn't had time to camber it in a little. So the officer leans in and tells me that it's illegal to have a tire rubbing against the fender. Naturally I told him that I USED to rub, but it's fine now, to which he replied "you smell that?" It was then that I noticed the smell of burning rubber absolutely filling the air. His backup arrived and walked directly to the right rear side of the car and yelled "Hey come look at this" to the original officer.
All I heard then was "holy shit!" followed by them telling me to get out and look. What I saw was a tire with NO sidewall…like not a single marking on it, all the way to the rim and a whole bunch of melted rubber stuck all over the fender. I guess my passenger had lowered that side of the car just enough to allow all hell to break loose. They immediately seized my plates and 20 mins later the tow truck arrived and my car was off the road. It was a small nightmare to get it back on the road but being slammed is a "gotta pay to play" kinda deal in Vancouver and it certainly didn't stop me.
What's next for the car?
Engine, engine, engine! The whole exterior look; wheels, paint, body kit happened first because I got a bit lucky and it all fell into place. This unfortunately postponed the engine work. For Kouki S14 owners like myself, engine choice isn't as simple as it would be for S13 owners in Vancouver because of the emissions testing on OBD2 cars. I may have to go KA-T, unless I can find a way to get around the AirCare process. If that's the case then the sky is the limit….SR20, RB25, who knows!
Any shouts out to anyone?
I'd definitely like to thank Steve from OZdesigns for the amazing paint and bodywork, MFRT for all their help and Garage Five for helping me source parts that seem impossible to get.
Thanks to my Slamchower bros at work for always convincing me to make stupid car related purchases. And of course, a huge shout out to my girlfriend for being half Japanese and listening with a smile while I never shut up about cars.
Exterior:
Vertex style front
Nismo 270R style side skirts and rear
LED Taillights
Shaved trunklid
Deep Midnight Purple paint with Purple metallic flake
Interior:
Leather Interior swapped in from LE Model
NRG short hub and quick disconnect v2.0
330mm Personal Grinta Suede steering wheel
Bings Drift Knob
Recaro SPG Profi Seat
Nagisa Auto Super Low seat rails
JVC XR-KW810 Double-din Head Unit
Suspension:
Megan Street Series Coilovers
Megan RUCAs
Megan rear toe arms
Megan rear traction rods
Megan front tension arms
Front Strut bar
Z32 Front Brake Conversion
PDM stainless conversion lines
HAWK HP+ Pads
Wheels/Tires:
Rota P45R
Front: 18×9.5 +30 (20mm spacer – +10 effective offset) w/ 215/35/18
Rear: 18×9.5 +30 (25mm spacer – +5 effective offset) w/ 225/40/18
Muteki SR48 Limited Edition "Burning Blue Neon" Lugs
Engine:
Apexi N1 Evo exhaust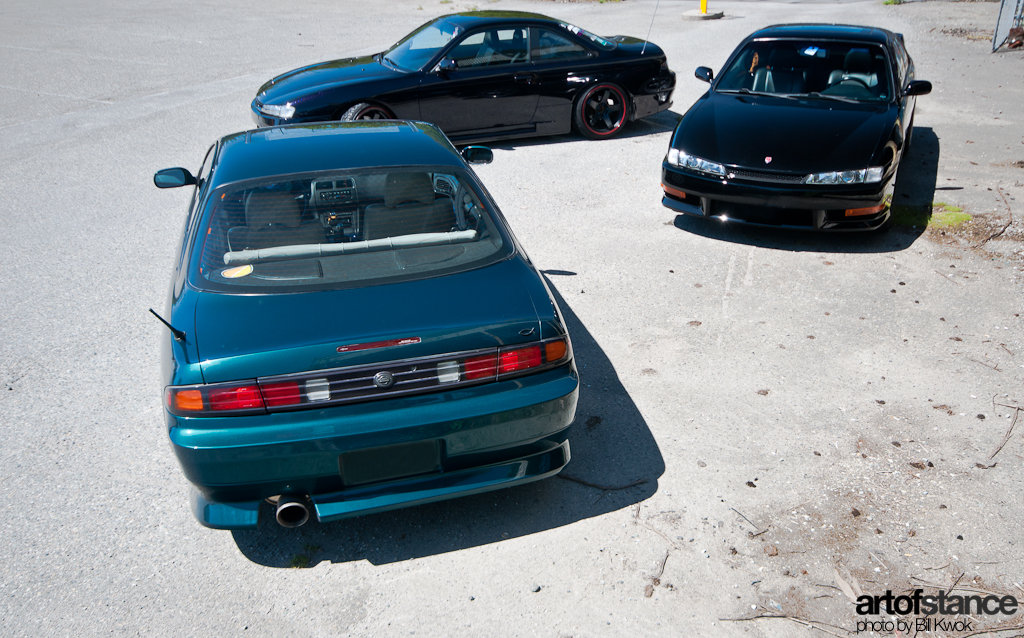 Last up is Nick Louie with his clean 1997 240 with an Injen intake and 5 speed manual conversion.
Why'd you choose a 240?
I chose the S14 because of it's exclusivity. The Nissan S14s are very rare to come by, especially the Kouki (97-98). When I came across one that was taken care of, unmolested, low KMs, I knew I had to jump on this one. I got her back in September 2010!
What's it like as a daily driver?
I personally love it. It's my daily driver, which is why I didn't want to slam it due to the bumps I have to take in order to go to work. Sure, I sacrifice the look, but i'd rather have a daily that I don't have to worry about scraping and cracking when going over speed bumps :). With my Greddy TI-C catback exhaust, my Kouki is a quiet one who doesn't want to attract too much attention.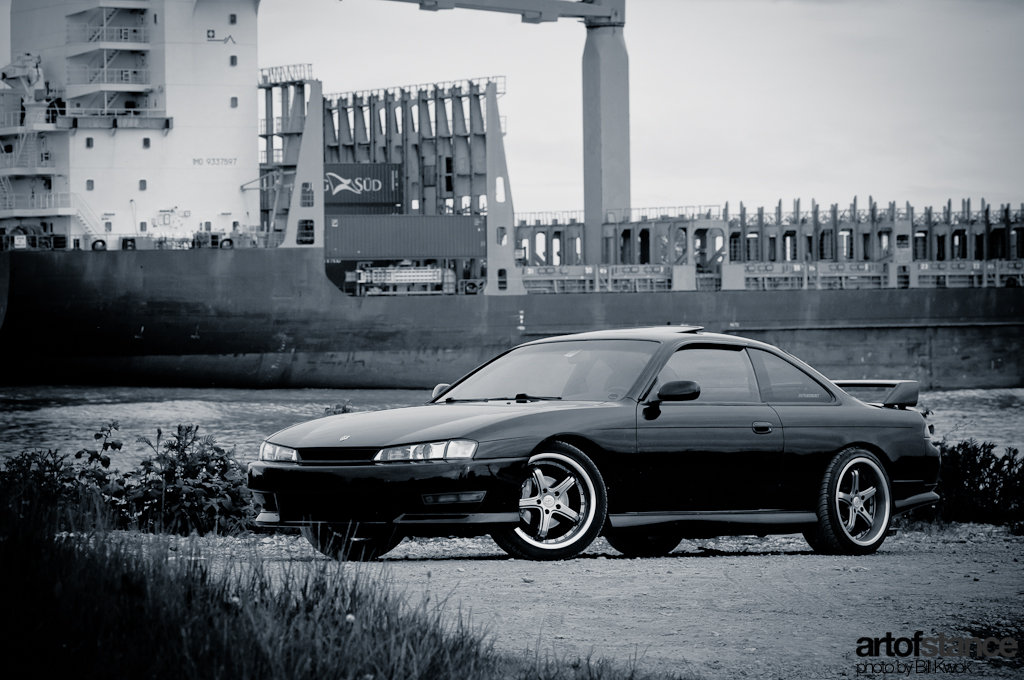 People's reaction when they see your car?
Many Revsceners think I need more low 🙂 Girls love it, considering it's an upgrade from my 91 toyota tercel!
Got an interesting story about your car?
Back when I was still learning 5spd, I remember driving home one night over the Knight Street bridge. I hit bumper-to-bumper traffic and accidentally stalled. and then the guy behind me lightly bumps into me. To top everything off, my car alarm goes off… sigh.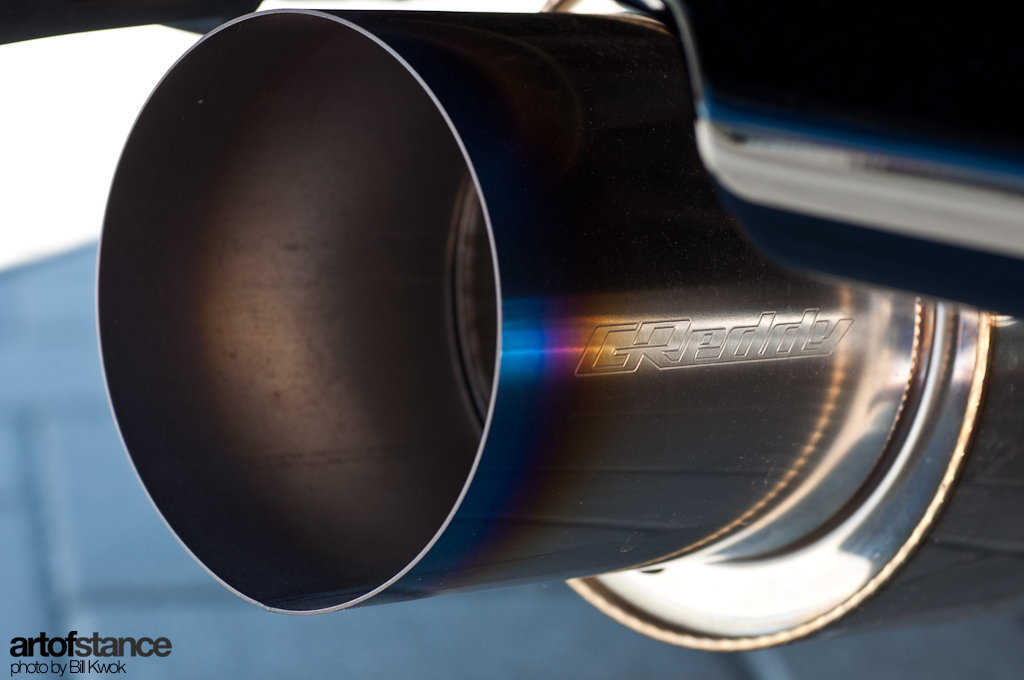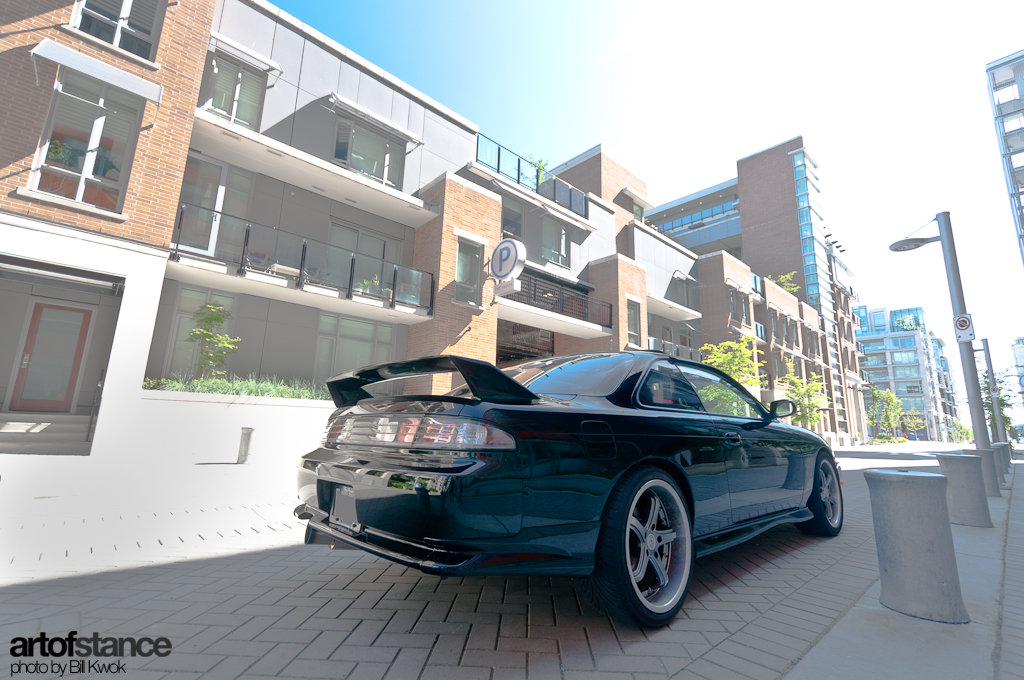 What's next for the car?
Oh gosh… The mods already spent is enough for this year lol. 240sx is an endless money pit…. maybe a SR20DET down the road? But for now, maybe new rims…to be determined.
Have any shout outs to anyone?
Garage Five! I couldn't have done it without the help from these guys! I would definitely recommend these guys.
Exterior:
S14 JDM OEM Kouki front bumper
S14 JDM OEM Kouki turn signals
S14 JDM OEM rear bumper
S14 JDM OEM Kouki rear valances
S14 JDM OEM Kouki spoiler
S14 JDM OEM Kouki grille
10k HIDs
Engine:
Greddy TI-C Catback and Exhaust
Suspension and Brakes:
Z32 front and rear 30mm aluminum calipers
Z32 stainless steel brake lines
R33 ebrake cables
Z32 brake master cylinder
Z32 brembo blank rotors
Tein Super Street Coiilovers
Interior:
S15 Steering wheel
S15 Floor mats
BLOX Neochrome shift knob
Crown Royal shift boot
Two tone limited edition leather seats
Wheels:
front 18×9 +15
rear 18×9 +18
unknown manufacturer wheels